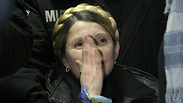 Yulia Tymoshenko after release from hospital
Photo: Reuters
Ukraine's freed Tymoshenko: 'A dictatorship has ended'
Ukranian opposition leader speaks out following release from custody, says decision to oust President Yanukovich amounts to fall of dictator. During visit at Kiev protest camp, Tymoshenko hails those killed in recent violence as 'the best thing in Ukraine'.
Hours after being released from prison, former Ukrainian prime minister and opposition icon Yulia Tymoshenko praising the demonstrators killed in violence this week as heroes as she addressed a massive crowd at the protester encampment in Kiev on Saturday.
The 53-year-old Tymoshenko, who suffered severe back problems during her 2-and-a-half years in prison, spoke to the crowd from a wheelchair and appeared close to exhaustion.
But her flair for vivid words was undimmed.
"You are heroes, you are the best thing in Ukraine!" she said of those killed in the violence. The Health Ministry on Saturday said the death toll in clashes between protesters and police that included sniper attacks had reached 82.
Tymoshenko said parliament's vote on Saturday to oust President Viktor Yanukovich amounted to the fall of a dictator.
"Our homeland will from today on be able to see the sun and sky as a dictatorship has ended," she told reporters after her release from the hospital where she had been held since she was jailed in 2011.
Saturday's appearance brought Tymoshenko back to the square where she attracted world attention in the 2004 Orange Revolution protests, a riveting figure then for her rhetoric, her elaborate blond peasant braid and her fashionable clothing.
After the protests forced the rerun of a presidential election nominally won by her foe Viktor Yanukovych, Tymoshenko became prime minister. But when Yanukovych won the 2010 election, Tymoshenko was arrested and put on trial for abuse of office, an action widely seen as political revenge.
Now Yanukovych once again appears on the wane and Tymoshenko on the rise. After Friday's agreement between the president and the opposition that reduced Yanukovych's powers, Yanukovych has gone to Kharkiv in his support base of eastern Ukraine, leaving the capital effectively in the control of the opposition.
Tymoshenko was jailed by a court under Yanukovich over a natural gas deal with Russia she arranged while serving as premier. The EU had long considered her a political prisoner, and her freedom was one of the main demands it had for closer ties with Ukraine during years of negotiations that ended when Yanukovich abruptly turned towards Moscow in November.
Earlier Saturday, after the parliament declared President Viktor Yanukovich constitutionally unable to carry out his duties, Ukraine's parliamentary speaker was quoted as saying Yanukovich had tried to board a plane to Russia but had been prevented from doing so and was now in the Donetsk region.
"He tried to get on a plane to Russia but border officials stopped him," Interfax news agency quoted Oleksander Turchynov, an opponent of Yanukovich, as saying. The report could not immediately be confirmed.
Chairman of the Executive of The Jewish Agency for Israel Natan Sharansky announced this evening (Saturday, February 22) that The Jewish Agency will extend immediate emergency assistance to the Jewish community of Ukraine and will help secure Jewish institutions in the country.
In addition to the immediate assistance, The Jewish Agency is launching a fundraising campaign to help boost security measures at Jewish institutions in Ukraine.
"The Jewish community of Ukraine, which counts some 200,000 members, is one of most vibrant Jewish communities in the world, with dozens of active Jewish organizations and institutions. Recent events have shown that we must strengthen these institutions' security measures. We have a moral responsibility to ensure the safety and security of Ukraine's Jews," said Sharansky.
Reuters contributed to this report.