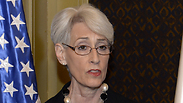 US Under Secretary of State Wendy Sherman
Photo: US Embassy
US official: It's possible Iran might have small, discreet enrichment program
Ahead of continued talks with Iran, US Under Secretary of State Wendy Sherman visits Israel, says talks' 'objective is to ensure Iran cannot obtain a nuclear weapon' but nonetheless notes that a domestic enrichment program is still on table
Iran could be allowed to maintain a reduced nuclear program as part of a final agreement on its atomic ambitions, the American official leading the US delegation in the negotiations with Tehran warned Saturday.

Visiting in Israel ahead of continued talks with Iran, US Under Secretary of State Wendy Sherman said it is "possible that Iran might have a small, discreet enrichment program."

Elaborating on the possibility, Sherman said "the objective (of talks) is to ensure that Iran cannot obtain a nuclear weapon and that its program is exclusively peaceful. Whether, in fact, Iran will have a domestic enrichment program is part of the negotiations."

Sherman said such an option was "really depended on what the nature of that was, whether there would be the verification and monitoring that would ensure that it would never have a military dimension to the program, it would be strictly for peaceful purposes.

Sherman said that even though the US and Israel "disagree" at times, the goal of her visit was to "listen" and cooperate in bid to move forward "to ensure security of Israel."

"I think what's important for every one to know is that... nothing is agreed until everything is agreed. So everybody in the room has a veto to make sure that our objectives get met and not just Iran's.

Regarding a final deal with Iran, Sharman noted that "Nothing about this comprehensive agreement is about what we believe, it is about what we see, what can be verified, what can be monitored, what are the concrete actions that will give us and the international community confidence in the exclusively peaceful nature of Iran nuclear program and that they will not obtain a nuclear weapon."

Summarizing her claim, Sherman said that deal "is about verify, verify, verify and concrete actions."

Stopping in Jerusalem before continuing to Riyadh, Abu Dhabi and Dubai, Sherman said "there is only one measure of success for a comprehensible agreement with Iran and that is if an agreement means that Iran will never obtain a nuclear weapon and that the international community will have assurance in the exclusively peaceful nature of a nuclear program in Iran.

"That is our objective," Sherman said of talks. Referencing renewed talks with Iran, Sherman added "We have begun very tough negotiations that will go on through July and we hope to get to a successful end."

Hinting at possible tensions with Israel, Sherman said "this is a very complex negotiation, and I very much look forward to the talks that I will have here in Israel, which I always do before and after each negotiation to get input, ideas, points of view. Sometimes we agree, sometimes we don't agree. But what is critical is to have that input as we move forward to ensure the security of Israel, the security of the United States, and the security of the world."
'Good start'
The six world powers and Iran made a "good start" during very productive talks this week on Tehran's nuclear program and will meet again on March 17, European Union foreign policy chief Catherine Ashton said on Thursday.
Ashton, speaking to reporters after three days of talks in Vienna, said the two sides had identified the issues that would need to be addressed in negotiations on a final settlement to the decade-old nuclear dispute.
"We had three very productive days during which we identified all the issues we need to address (to reach a final agreement). There is a lot to do. It won't be easy but we've made a good start," Ashton said.
Technical experts would meet in early March, before the meeting of political directors on March 17, she added.
Ashton will travel to Tehran on March 9-10, ahead of the next round of nuclear talks with Iran, a Western diplomat said on Thursday.