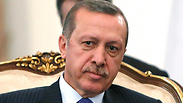 Prime Minister Recep Tayyip Erdogan
Photo: EPA
At the end of December 2013, Turkey took a major step towards shifting the balance of maritime power in the eastern Mediterranean Sea. It signed a contract for the construction of a multi-purpose amphibious ship that could function as an aircraft carrier, providing the country with an unprecedented degree of maritime control in the region.

The change could exacerbate the perception of a Turkish threat by Israel, Cyprus and Greece, and will influence the upcoming Israeli decision on whether the export of its natural gas to a liquified natural gas (LNG) terminal in Cyprus, or to construct an undersea pipeline to Turkey.

The upcoming diplomatic moves by Turkey could make the difference between a comprehensive regional agreement that would lead to the Israeli export to Turkey of the gas found in the eastern Mediterranean, or a maritime arms race, which Turkey cannot win.

In March 2012, Turkey's Navy Commander Admiral Murat Bilgel outlined the country's strategic goals: "To operate not only (near) the shoreline, but in the heart of the sea." Bilgel was not signaling an intention to expand to oceanic activity, but rather to expand Turkey's military prowess in the Mediterranean Sea. The admiral identified the Turkish navy's goals for the coming decade as "improving naval defense and a growing capability to project limited force."
$3 billion naval project
Turkey's latest warship, which boasts a helideck, is part of the "National Ship" initiative (known by its Turkish initials MILGEM) that Ankara is undertaking at a cost of $3 billion.

The new warship will dwarf even the largest ships currently serving in the Turkish fleet. The landing helicopter dock (LHD) will endow Turkey with the capability to operate in open seas and deploy sizeable force in any arena – including around the off-shore natural gas facilities that Cyprus and Israel have built in open waters. No country can afford to ignore this new capability.

In its amphibious assault capacity, the LHD can deploy 1,000 soldiers and 150 vehicles – including tanks – in landing crafts from open waters. As an aircraft carrier, the warship's deck can carry 18 fighter jets of two varieties: V/STOL and STOVL, vertical and/or short takeoff and landing and short takeoff and vertical landing.

In September 2013, the new Turkish Navy commander, Bulent Bostanoglu, claimed that the perception of Turkish maritime threat is grounded on energy issues and identified defending Turkish interests in the eastern Mediterranean Sea as the Turkish Navy's "top priority."

In this context, the acquisition of an LHD ship by turkey will affect the process of Israel's decision-making about how Israel exports its sea-based natural gas deposits at the Tamar and Leviathan fields.
Bypassing Turkey
The developers of the Israeli gas fields – American company Noble Energy and its Israeli partners Avner and Delek – signed a Memorandum of Understanding (MoU) in June 2013 with Cyprus about establishing a natural gas terminal in Vasilikos, on the southern coast of Cyprus. The MoU also raises the possibility of creating an EU market export route that would go through Greece and bypass Turkey.

The development of such a potential export arrangement is the product of tripartite cooperation in the energy and security arenas of Israel, Cyprus and Greece, created after the deterioration in ties between Israel and Turkey from 2008-2012, and especially in 2010, when Turkey's National Security Policy Document, commonly known as "The Red Book", noted Israel as a threat to regional security and Prime Minister Recep Tayyip Erdogan pledged that "the eastern Mediterranean Sea will see Turkish battleships with higher frequency."

A more economical route to exporting natural gas from Israel would be through an undersea pipeline from the Leviathan gas field to Turkey. According to JP Morgan, constructing such pipeline would yield a higher and quicker return on investment than the planned liquefied natural gas terminal in Cyprus. Turkish companies Zorlu Energy and more recently Turcas Petrol have already to Israel expressed their interest in the pipeline project.

But Ankara's intended purchase of the LHD ship, together with its hostile political policy towards Israel, creates in Israel an a greater perceiveed threat, and therefore Jerusalem cannot afford to risk strategic ties with Nicosia and Athens.

Moreover, the proposed Leviathan-Turkey pipeline would go through Cyprus' continental shelf, thus requiring approval from Nicosia. The absence of a political settlement in northern Cyprus, along with the acquisition of the aircraft carrier, also increase the perception of a Turkish threat in Nicosia, and also impact on strategic considerations.

From Ankara's perspective, its strategic options are tied to its improved naval capabilities. But if these do not go hand in hand with a diplomatic process to secure energy export agreements with Israel, Cyprus and Greece, it would be a wasted opportunity.

Instead, Ankara would actually initiate a maritime arms race, when Turkey itself does not have the economic resources to win.

Israel, on its part, does not need to enter into an arms race with Turkey to create an effective counterbalance. For both countries, there is no benefit in being trapped in such a situation.