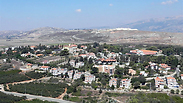 Metula, a border-area community
Photo: Ziv Reinstein
At least 400 Israeli communities will be eligible for tax benefits starting January 2015, according to new criteria approved by the government. The Finance Ministry will officially publish on Sunday the list of communities, which had been obtained in full by Yedioth Ahronoth.

Finance Minister Yair Lapid will oversee the doubling of the number of eligible communities, 210 of which are new communities who have never been eligible for benefits before. The emphasis in the composition of the list was the distance of the community from Israel's center and its proximity to the borders with Syria, Lebanon, or the Gaza Strip.

The Knesset must still approve the list, though the criteria were approved last week by the cabinet. The new list includes communities in the Golan Heights, the Arava (southeast Israel) and Bedouin encampments in the Negev. Few settlements qualified for benefits – their entries were limited to those within the Jordan Valley, Kiryat Arba, and nine small settlements south of Mt. Hebron.

The major settlements, like Ariel, Ma'ale Adumim, and Giv'at Ze'ev were not on the list of 400. Representatives of the many communities which were not included in the list are expected to oppose the new measure, and petitions to the High Court of Justice are likely.

The Alawaite village of Ghajar, which straddles the Israel-Lebanon border, will receive tax benefits, even though its land is not wholly in Israeli territory and is considered a Syrian-Lebanese village.

For the first time, the list of tax break recipients includes military bases.

The level of benefits for the communities has yet to be determined. It is possible that the communities which had already been on the list will have their benefits reduced because of the rapid swelling of the list. Several communities which have outperformed expectation and improved their socioeconomic situation were dropped from the list.