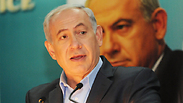 Benjamin Netanyahu
Photo: Aviyahu Shapira
Prime Minister Benjamin Netanyahu on Sunday urged world powers to stand firm in negotiations over Iran's nuclear program, saying that the Islamic Republic had won major concessions without yielding on its own demands.
"I am greatly concerned that Iran believes that it can implement its plan to become a nation on the nuclear threshhold," Netanyahu told ministers at the start of his weekly cabinet meeting in Jerusalem. "This combination of uranium entichment and launch capabilities, means that Iran is getting everything and giving nothing."
The head of the US delegation to the talks aimed at curbing Iran's nuclear aspirations, Wendy Sherman, told reporters in Jerusalem on Saturday night that there was a possibly that a deal with the Islamic Republic could leave Tehran with some nuclear capabilities, such as limited uranium enrichment.
"We need to dismantle Iran's ability to manufacture and launch nuclear weapons," Netayahu said. "This has yet to be achieved, and without the persistence of the world powers it will not be achieved... I hope that the powers will be firm in the demand to prevent Iran from becoming a nuclear-threshold country."
Visiting Israel ahead of continued talks with Iran, Sherman said it is "possible that Iran might have a small, discreet enrichment program."
Elaborating on the possibility, Sherman said "the objective (of talks) is to ensure that Iran cannot obtain a nuclear weapon and that its program is exclusively peaceful. Whether, in fact, Iran will have a domestic enrichment program is part of the negotiations."