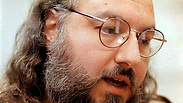 Jonathan Pollard
Photo: AP
Politicians and the Israeli public have gathered outside the US embassy in Tel Aviv on Sunday evening to call for the release of convicted American spy for Israel Jonathan Pollard.

Thousands of people demonstrated outside the embassy, waving Pollard's picture and shouting: "We want Pollard home!"

Niriya Binyamini, head of Youths for Pollard told Ynet that "We are protesting against the US, and calling on them to release Jonathon Pollard. Twenty-nine years have passed – enough!"

Shay Bechor, a Ramat Gan city council member, also participated in the event and said "It is clear Pollard's sentence is disproportional, and an aspect of justice is nowhere to be found. This issue has managed to overcome fault lines, both left and right want to see Pollard at home."

"As a Ramat Gan city council member I will present an order of business calling for Pollards' release so we can see him home by this Passover," he said, adding "Well done to all the Israelis who have come to this event."

The Jewish American former civilian naval employee has served almost 29 years of a 30-year sentence for spying for Israel, and the US has consistently rejected all Israeli requests for his release. It is the harshest punishment ever handed down to a US citizen caught for spying for an American ally. He is due for parole next year.

This will be the first time that lawmakers from both sides of the Israeli politicial spectrum will rally together for Pollard, the Israeli media reported.

"This has turned into a giant wound in the people's heart and the Jewish nation's heart," said senior Labor MK Yehiel Bar at a rally for Pollard last month. "Particularly because everyone understands that Jonathan Pollard has served time in a disproportional manner, beyond all logic."

Related stories:

Earlier this month, former CIA Director James Woolsey said anti-Semitism could be a factor in the US refusal to release Pollard.

Woolsey told Channel 10 television that Americans who spied for other countries, including Korea and Greece, were freed after shorter sentences.

"I certainly don't think that it is universally true, but in the case of some American individuals, I think there is anti-Semitism at work here," Woolsey said.