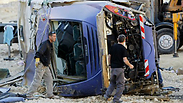 Police investigate the accident
Photo: AFP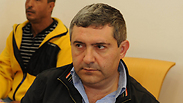 Edward Gelfand
Photo: Yisrael Yosef
Edward Gelfand, the driver of a tour bus that crashed in Israel in 2008, killing 24 Russian travel agents, was sentenced to eight years in prison on Sunday, the Justice Ministry said.

The accident occurred near the southern Red Sea resort of Eilat, when the bus, carrying 49 passengers, veered off a desert road and plunged down a ravine. It was one of the worst crashes in Israel.

The Russian travel agents had just arrived in Israel and were en route to Eilat. Fifteen of them were badly injured in the accident.

During his sentencing hearing, the Petah Tikva resident apologized for the incident and even said that, at times, he wishes he was among the victims: "On one hand I am alive, and on the other I am already dead."

In addition to the prison sentence, the court also revoked Gelfand's commercial license and suspended his civilian license for 25 years.

The driver was convicted in September of manslaughter and was found to have been driving recklessly, when he entered a sharp curve at high speed while trying to overtake another bus, according to a court document provided by the Justice Ministry.

Mati Siver contributed to this report.