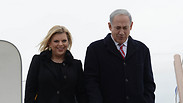 The Netanyahus'
Photo: Kobe Gideon, GPO
The superintendent of the Prime Minister's Residence claims he was exploited and his rights were trampled while he was working for the Netanyahus' household staff, and is now suing for compensation.

In a draft of the complaint set to be filed with the Labor Court against the official residence, the man claims he was made to work long hours, and was mistreated and belittled despite his dedication to his job. The draft was published by Channel 2 television Sunday.

Related stories:

"The plaintiff was employed under exploitive, inhumane and unfair conditions," said his former lawyer, Amit Sabag. The man worked as the superintendent for the residency until the end of the prime minister's last term.

"He claims he worked shifts lasting longer than an entire day's work, was given only short hourly breaks and was required to be available around the clock."

The crux of the complaint is that Ezra Saydoff, head of residence's household staff, promised the superintendent he would get a permanent appointment to the position, but ended up giving him only a temporary contract.

According to the complaint, "Saydoff reportedly told the plaintiff not to worry because he was planning on issuing an internal tender for the position, and would reject all those who applied for it. Afterwards, he promised he would issue a public tender specifically for the plaintiff."

A recording of a conversation between Saydoff and the complainant was attached to the draft, in which he is heard telling Saydoff: "Do you have any worker at the residence who can tell you he is better than me? Who left his family for a year and 10months? It's like being in jail for a year and 10 months."

Saydoff reportedly replied: "Look me in the eyes when you address me, I am a very honest man. Sometimes I disregard State Civil Service Directorate directives but I did everything for you."

The superintendent recently met with representatives from the State Comptroller's office and sounded his grievances. He plans demand a few hundred thousand shekels in compensation.

In response to teh report, the Prime Minister's Residence said, "we reject the claims. If the worker suffered so much, why did he repeatedly ask, over a two-year period, to stay on as a permanent employee?"