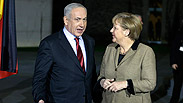 Prime Minister Netanyahu and German Chancellor Angela Merkel
Photo: AFP
German Chancellor Angela Merkel will vow today - as she has been doing throughout her term - to stand beside Israel and help ensure its future wellbeing and security.

One does not need to demand proof of Merkel's intentions, she always makes good on her promises. Her word is set in stone. The most important European leader today will express her commitment in the German language - the language of thinkers like Johann Wolfgang von Goethe and Moses Mendelssohn, and the language of the murderers of the Jewish people Adolf Hitler and Heinrich Himmler.

Even after 50 years of full diplomatic relations, Israel and Germany still cannot escape the debate on why the Nazi regime tried to annihilate the Jewish people, or, as novelist Aharon Appelfeld wrote in his memoir, "The Story of a Life": "My mother's language was German, the language of my mother's murderers. How can you go back to speaking a language soaked in Jewish blood? This dilemma, with all of its gravity, did not affect the feeling that my German is not the language of the German people, but my mother's language."

Appelfeld offers perhaps the most profound answer to the contradiction that lies in the heart of Israeli-German relations. Love and hate. Distancing and drawing closer. One cannot erase the memory that hangs over this most unique of relationships, nor can one base them strictly on that memory. In other words, Israel cannot deny the Germans the right to criticize its behavior towards the Palestinians.

From conversations I had in Germany recently I learned that Merkel is willing to stand beside Israel completely on all issues except for one - the Palestinians.

Merkel does not understand what Prime Minister Benjamin Netanyahu means when he talks about a two-state solution while at the same time encouraging the ongoing settlement construction in the West Bank.

Merkel has said many times in private conversations that Netanyahu is not always honest with her about settlement construction. She believes that it is up to the prime minister to prove his intentions, and restore the mutual trust between them. It is no secret that the personal relationship between Merkel and Ehud Olmert during his time as prime minister set a high bar that Netanyahu is as far away reaching as the sun is from the moon.

This visit presents an opportunity to raise additional bilateral issues for discussion. Beyond the German leadership's willingness to cater to Israel's unique security needs - like building six submarines that are, according to foreign reports, a part of Israel's nuclear deterrence, and an unprecedented cooperation with the intelligence community - there's an open question that concerns the new generation of Germans.

Voices calling for an end to Germany's special commitment to Israel, which stems from what Nazi Germany did to the Jews, receive a lot of attention in the German public discourse. These voices aspire to treat Israel like any other country that wants to belong to the group of nations safeguarding human rights.

And thus when Culture Minister Limor Livnat preaches that the European Parliament president dared criticize us in the Knesset in the "German language", Germans are no longer willing to turn the other cheek, they are outright insulted.

So now we tell Madame Merkel: Willkommen, Angela.