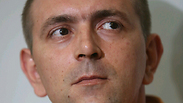 Roman Zadorov
Photo: Hagai Aharon
Judges at the Nazareth District Court decided to uphold Roman Zadorov's conviction in the murder of 13-year-old Tair Rada in December 2006.
Zadorov was sentenced to life in prison, but his trial was reopened to discuss alleged new evidence.
Rada was found in a bathroom stall at the Nofei Golan School in the Golan Heights town of Katzrin, covered in her own blood. Her throat was slashed twice, which led investigators to believe this was murder and not suicide.
Related stories:
An investigation of the murder eventually led to Zadorov, who worked as a construction worker on the school's grounds.
Zadorov confessed to the murder upon his arrest and reenacted the murder. According to the police's statement, Radar insulted Zadorov after he refused to give her a cigarette, which led him to kill her.
Zadorov later retracted his confession, claiming he was pressured by police to confess to the murder.
Evidence against Zadorov included a bloody shoe print on Rada's pants, that matched his own work shoes, and an expert's opinion that the knife used in the murder was a Stanley knife, the kind Zadorov used in his work.
Judge Yitzhak Cohen rejected the defense expert's testimony that contradicted the verdict's conclusions about the kind of knife that was used in the murder. Cohen favored the ruling that the knife used was a sharp knife, possibly a Stanley knife, as the defendant himself admitted to police investigators. A claim by another defense expert that it was not possible to identify the bloody shoe print on Rada's pants was deemed by the judges "embarrassing and fundamentally flawed."
In the September 2010 verdit, judges Esther Helman and Haim Galpaz wrote that they had "no doubt the defendant before us is Tair Rada's murderer."
"His testimony is abundant in lies, manipulations and inconsistencies. He did not provide explanations. The defendant knew at least seven details no one else could have known," the verdict read.