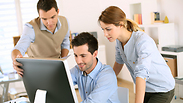 סטארט אפ סטארטאפ מחשב מחשבים
Photo: Shutterstock
A new initiative by The Jewish Agency will bring Harvard students and Facebook employees to intern in Israel.
The Israel Tech Challenge, a new initiative by The Jewish Agency, will offer young gifted Jewish students in computer science from around the world – among them Ivy League students and employees of companies such as Facebook, Twitter, and Google – an insider's look at the Startup Nation.
The new program will bring 20 students from universities and colleges such as Harvard, Stanford, and MIT for a two-month long internship in the Israeli high-tech sector where they will receive a salary and have their stay in the country subsidized.
Additionally, some 50 employees of large scale tech companies will arrive for a two-week long tech experiences in Israeli high-tech companies.
According to Oren Toledano, director of the program, several tech experience tracks are offered to participants, including orientation trips to the Israeli high-tech scene, several-month long programs with Israeli professionals, and first-hand experience through internships.
Among the companies asking to engage the young Jewish interns from abroad are: Check Point, Intel, Google Israel, Pay Pal Israel, Soluto, eBay, IBM, and JVP.
Participants will intern through Onward Israel, a Jewish Agency program in partnership with Jewish organizations overseas, that that includes young Jews from abroad in the Israeli workforce through résumé-building experiences, or for a six-month-long experience through Masa Israel Journey.
The Jewish Agency is developing a variety of tracks that enable young Jews in various professional fields to intern in Israel for several months, and, through these experiences, strengthen their ties with Israel.
Natan Sharansky, Chairman of the Executive of The Jewish Agency for Israel, said: "The State of Israel is a technological superpower, as well as a center of Jewish inspiration. Our goal is to expose these young people to the modern miracle that is the Startup Nation and thus strengthen their Jewish identity and their connection to Israel. I am confident the Israel Tech Challenge experience will enrich both these gifted young people and the Israelis they'll meet during their time in the country."
This week The Jewish Agency's Board of Governors Meetings will be held, and will discuss the new program among other programs to connect young Jews around the world to Israel.