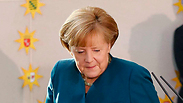 Angela Merkel
Photo: Reuters
German Chancellor Angela Merkel was due to arrive in Israel on Monday, accompanied by more than a dozen ministers, for a series of events to mark 50 years of diplomatic ties between Israel and Germany.
Merkel will meet with Prime Minister Benjamin Netanyahu at his official residence, the prime minister's office said, and on Tuesday the two governments will hold a joint meeting in Jerusalem.
Related stories:
Netanyahu said earlier in the week that his talks with the German chancellor would center on "two diplomatic issues of the highest order" – Iran's nuclear program and the peace process with the Palestinians. Merkel, meanwhile, has said that she would push Israel on the negotiations with the Palestinians, expressing support for US Secretary of State John Kerry, who is leading the talks.
"We need a stable two-state solution as soon as possible, with a Jewish State of Israel as well as a state for the Palestinians," Merkel said in her weekly video podcast last weekend.
During Tuesday's government meeting, the two states will sign a series of agreements covering defense, foreign relations, trade, scientific research and development, culture and welfare, according to the PMO. They will also sign cooperation agreements on cancer research, senior citizen care and preservation of the White City in Tel Aviv as a center for Bauhaus architecture.
Writing exclusively for Yedioth Ahronoth to mark the event, German Foreign Minister Frank-Walter Steinmeier pledged his country's enduring support for the Jewish state.
"Israel does not stand alone," he wrote. "Germany and Europe are important partners that act decisively for Israel's legitimization and its right of existence."
Also Tuesday, Merkel will attend a special ceremony at the official residence of President Shimon Peres, who will award her the Presidential Medal of Distinction, Israel's highest honor. The medal has been awarded to a limited number of people, including US President Barack Obama and Nobel laureate and author Elie Wiesel.