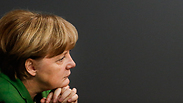 Ahead of a visit by Chancellor Angela Merkel, Germany's foreign minister on Monday heaped tough criticism on Israeli settlement policy in the West Bank, calling the construction "disruptive" to peace efforts and saying it would be raised during two days of meetings with Israeli leaders.

Frank-Walter Steinmeier made the blunt remarks in Madrid before flying to Israel, where Merkel was to arrive late Monday with almost all of her Cabinet. The two countries hold a joint Cabinet meeting every year.

US-mediated peace talks between Israel and the Palestinians will be a main focus in meetings, and German opposition to settlement construction will be raised, Steinmeier said in a statement.

"We'll discuss where things stand on the peace process and will try to find out what the obstacles are that prevent a solution," he said. "The settlement policy clearly remains among those obstacles and this will of course be raised. We said clearly in the past that we don't just consider decisions to expand settlements as unhelpful, but as disruptive of peace efforts, and of course we will discuss this during our visit," he said.
Close allies
Germany is Israel's closest ally in Europe. Tensions have been on the rise lately between Israel and Europe, and also with Germany, over settlement policies.
Israel says the fate of settlements should be resolved through the peace talks along with other core issues like security and incitement in Palestinian media. It has played down the importance of settlements, saying the issue should be resolved in peace talks, and demanded the Palestinians recognize Israel as the Jewish homeland. The Palestinians have objected, saying it would undermine the rights of Israeli Arabs as well as the fate of Palestinian refugees claiming lost properties in what is now Israel.
Merkel is set to meet Israeli Prime Minister Benjamin Netanyahu Monday evening. A joint Cabinet meeting is scheduled Tuesday.
The annual joint Cabinet meetings highlight the strong bond between Israel and Germany seven decades after the Holocaust, when Nazi Germany killed 6 million Jews. The countries only established diplomatic relations in 1965, nearly two decades after the Holocaust. Germany is a key Israeli trade partner.
But tensions have been rising. Earlier this month lawmakers from a nationalist Israeli political party stormed out of parliament to object to comments by the visiting president of the European Parliament, who is German. Martin Schulz enraged the lawmakers when he asked whether claims he had heard from a young Palestinian about Israel's control over water resources were true.
Naftali Bennett, head of the Jewish Home party, demanded an apology. "I will not accept untruthful patronizing of the people of Israel in our parliament, certainly not in German," he said.
The figures cited by Schulz were indeed erroneous, but his general concern – that Israel consumes far more water than the Palestinians – was accurate, according to environmental groups.