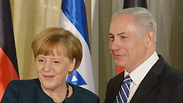 Merkel, Netanyahu
Photo: Amos Ben Gershom, GPO
Chancellor Angela Merkel said Monday that she is visiting Israel with most of her new cabinet in order to show Germany's friendship with the Jewish state and that her country is working to secure the future of Israel.
Merkel was speaking at an evening press conference with Israeli Prime Minister Benjamin Netanyahu. Germany is Israel's closest European ally and holds an annual joint Cabinet session with its Israeli counterparts. Recently, however, tensions with Europe, and also Germany, have raised over West Bank settlement policies.
"We have come here with almost the whole of our new government and we wanted to show you in this way that this is indeed a very strong friendship," Merkel said in German and relayed in English through a translator.
German Chancellor Merkel and Israeli Prime Minister Netanyahu in Jerusalem (צילום: רויטרס)
Merkel said Germany has been working with Israel "shoulder to shoulder" over the past five decades "to secure the future of the state of Israel." She said that "part and parcel of the security of Israel is the two state solution...a Jewish state of Israel and alongside it a Palestinian state."
Related stories:
Standing at her side Netanyahu said the US mediated peace talks, as well as international efforts to quell Iran's nuclear program, would figure prominently in his meetings with Merkel.
Germany also belongs to a group of nations currently negotiating with Iran, Israel's arch foe and a particular nemesis for Netanyahu.
"I would like to discuss ways to prevent Iran from getting nuclear weapons capability. I believe that this is the greatest challenge to the security of the world," Netanyahu said.
He also said he wanted to discuss ways to advance peace efforts with the Palestinians.
"The people of Israel want peace, they want a real peace, they want a peace that ends the conflict that finally gets the Palestinians to recognize the Jewish state and one in which we have the necessary means of security to defend ourselves against any possible contingency in this turbulent Middle East," Netanyahu said.
'Israeli policy disrupts peace talks'
Germany's foreign minister heaped tough criticism on Israeli settlement policy in the West Bank ahead of the visit, calling the construction "disruptive" to peace efforts and saying it would be raised during two days of meetings with Israeli leaders.
Frank-Walter Steinmeier made the blunt remarks in Madrid before flying to Israel.
"We'll discuss where things stand on the peace process and will try to find out what the obstacles are that prevent a solution," he said. "The settlement policy clearly remains among those obstacles and this will of course be raised. We said clearly in the past that we don't just consider decisions to expand settlements as unhelpful, but as disruptive of peace efforts, and of course we will discuss this during our visit," he said.
The annual joint Cabinet meetings highlight the strong bond between Israel and Germany seven decades after the Holocaust, when Nazi Germany killed 6 million Jews. The countries only established diplomatic relations in 1965, nearly two decades after the Holocaust. Germany is a key Israeli trade partner.
Noam Dvir and Attila Somfalvi contributed to this report.