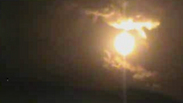 Several Hezbollah militants were killed in an alleged Israeli attack in Lebanon's Beqaa Valley near the border with Syria, Al Arabiya reported.

A Lebanese security source confirmed that Israeli warplanes struck targets in the coastal country. The Syrian Observatory for Human Rights claimed the attack targeted a Hezbollah "missile base."

Earlier, the official Lebanese news agency reported that Israeli fighter jets have carried two attacks on Monday in the vicinity of the Syrian-Lebanese border.

The objective of the attack was the destruction of Hezbollah facilities near the border in Lebanon, according to Al Arabiya, whose journalist reported that loud explosions were heard across the Beqaa Valley.

However, Hezbollah's television channel Al-Manar said that there had been "no raid on Lebanese territory," reporting only the "strong presence of enemy planes over the area north of Bekaa" in eastern Lebanon.

Lebanese television channel LBC claimed that the area allegedly attacked has several passageways between Lebanon and Syria, through which weapons and equipment are passed in an unofficial manner. Another report, on Lebanese channel MTV, claimed that the target was a weapons delivery from Syria to Lebanon.

Meanwhile, the Lebanese news website Al-Nashra reported that Israeli fighter jets struck twice in the area of the Syrian-Lebanese border. Al-Nashra did not specify a target for the alleged incursion.

It was reported earlier Monday on Lebanese media that Israeli Air Force jets were hovering over Baalbek in the Lebanon Valley.

Residents of Nabi Chit, on the Lebanese side of the border, told AFP they saw flare bombs light up the sky ahead of the raids, which shook their houses.

Residents in neighbouring areas said they heard planes flying low before the raids.

Nabi Chit is a bastion of Hezbollah, which is helping the Syrian regime battle insurgents. The Shiite group has a suspected weapons store and training camp there.

Since the beginning of the three-year-old Syrian civil war, the Israeli Air Force has allegedly targeted weapons convoys, arms depots, and missile installation reportedly en route to Hezbollah in Syria and Lebanon.

Last month, Lebanese media reported a loud explosion was heard in the area of Syria's port city Latakia. Western media reported that the explosion came from an Israeli attack. According to the sources, quoted in the Palestinian site Zamnpress, the attack was on an arsenal of S-300 rockets.

AFP contributed to this report.