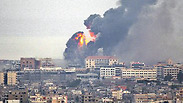 IDF attack on Beirut during Second Lebanon War
Photo: AP
TEHRAN - A senior Iranian military official said Tuesday the Islamic Republic has analyzed Israeli strikes during the 2006 Second Lebanon War to boost its own defense capabilities against the US and Israel.

Iran sees Israel as its arch-nemesis. The Jewish state fought the 2006 war against Iran's ally, the Lebanese militant group Hezbollah. Israel and the US have not ruled out a military option against Iranian nuclear facilities.

Gen. Gholam Reza Jalali, who heads a unit in charge of civil defense, said Iran sent a team to Lebanon and collected 5,000 photos of buildings destroyed in Israeli attacks during the 2006 war and changed its defense plans accordingly. His comments were published in the conservative daily Kayhan Tuesday.

He said Iran has built underground facilities and spread out its installations and forces.