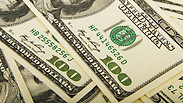 MPs lament Poland's 'failure to fulfill, or even recognize, its responsibility to victims'
Photo: Shutterstock
British lawmakers are urging Poland to commit to restitution legislation for property seized by the Nazis during the Holocaust, after Warsaw failed to pass any laws on the issue despite having signed a 2009 declaration to do so, JTA reported on Monday.

Fifteen members of the House of Commons and 35 members of the House of Lords sent a letter addressed to Polish Prime Minister Doland Tusk, lamenting Poland's "failure to fulfill, or even recognize, its responsibility to victims."

Related stories:

"Democratic Poland continues unjustly to benefit from the victims' private property. Many of these victims and their heirs – both Jews and non-Jews – are British citizens," the letter stated, according to excerpts posted on JTA.

The letter, whose primary signatory is Jewish peer Ruth Deech, was coordinated by the Board of Deputies of British Jews and the World Jewish Restitution Organization.

"Poland has a responsibility to elderly Holocaust survivors, their heirs and other victims to return property which was seized by the Nazis or subsequently nationalized by the Communist regimes," the letter asserted.

According to restitution expert Gideon Taylor, this is the first time such a letter was sent by a European parliamentary group.