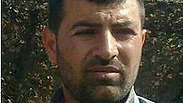 Prime Minister Benjamin Netanyahu on Tuesday refused to confirm whether Israel carried out an airstrike along the Syrian-Lebanon border, but said he would do everything possible to protect the security of Israeli citizens.
Netanyahu delivered his vague answer hours after Lebanon's state news agency reported that Israeli aircraft carried out two airstrikes late Monday, followed by additional reports that a Hezbollah field commander was reportedly killed in the alleged Israeli strike on the Syrian-Lebanese border.
Hajji Hassan Mansour, who was also known as Abu Haitham, was a field trainer in a Hezbollah base in the Nabi Chit area of the Beqaa Valley.
The sources quoted by NOW Lebanon said Mansour was "killed in the Israeli raid while carrying out a martyr operation."
Related stories:
Lebanese media reported on an airstrike Monday night targeting a weapons convoy en route from Syria to Hezbollah in Lebanon. Reports said Israeli Air Force planes were behind the strike, in which several Hezbollah militants were said to have been killed.
Hezbollah's Al-Manar television, however, denied the strike had occurred and rejected reports of Hezbollah losses.
When asked about Israel's alleged involvement in the strike, Prime Minister Benjamin Netanyahu said, "I don't talk about what is claimed we did or did not do - that's the first part. The second part is that we do whatever it takes to protect the security of the people of Israel."