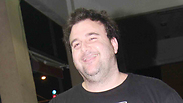 Yaron Berlad. Refused to hide behind gag order
Photo: Anat Mosberg
Comedian Yaron Berlad, who starts on the popular Israeli television show "Eretz Nehederet" (A Wonderful Country), was detained Monday on suspicion of sexually assaulting a 17-year-old girl from central Israel. Following the advice of his lawyer, Berlad chose not to hide behind the gag order that was issued on the case and decided to request that his name will be disclosed.
According to the suspicions, Berlad and the victim first became acquainted three months ago, through a mutual friend. The comedian picked the girl up in his car last Saturday night, and after several hours she arrived at the Hadera Police station, saying that Berlad had sexually assaulted her while they were in the vehicle. According to the girl's claims, Berlad promised her she will appear on "Eretz Nehederet."
Stars Battle
Morning TV stars cancel appearance at women's festival due to attendance of singer Eyal Golan, who was accused of having sex with underage girls
Berlad, who was arrested following the complaint, denies the allegations and claims that the girl introduced herself to him as an adult.
The comedian confessed to knowing the victim and further claimed that she had taken advantage of him by using his money to buy clothes for herself. After his interrogation, Berlad was released to a five-day house arrest.
.
Following the publication of his name, Eretz Nehedert producers announced that Berlad will not appear on the show until the allegations against him are investigated.
The sketches written for Berlad for the upcoming show have not yet been filmed, and as of now, he will be unable to take part in the panel's central filming day, due to his house arrest.
Ran Boker contribued to this report