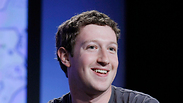 Mark Zuckerberg. Jewish groups complain cartoon resembled Nazi propaganda
Photo: AP
A German cartoonist has apologized for causing offense by depicting Facebook founder Mark Zuckerberg as a hooked-nose octopus, after Jewish groups complained it resembled Nazi propaganda.

Cartoonist Burkhard Mohr says he had intended to make a point about Facebook devouring rival WhatsApp and didn't realize the parallels to the Nazis' anti-Semitic portrayal of Jews as hungry tentacle monsters.



Later editions showed an empty hole where Zuckerberg's face had been (Photo: Facebook)
The cartoon was published Friday in early editions of the Munich daily Sueddeutsche Zeitung. Later editions showed an empty hole where Zuckerberg's face had been.
Under Fire
Abe Foxman demands apology after magazine sparks outrage with caricature implying Jewish control of US government.
"I'm very sorry about this misunderstanding and any readers' feelings I may have hurt," Mohr said in an email to The Associated Press on Tuesday.
"Anti-Semitism and racism are ideologies that are totally alien to me," he added.
Efraim Zuroff, the head Nazi hunter at the Simon Wiesenthal Center in Jerusalem, said he wasn't convinced by the apology.
"He drew a caricature that is so reminiscent of Der Stuermer caricatures that it's inconceivable to me he didn't realize this," said Zuroff, referring to the weekly propaganda paper that the Nazis used to whip up hatred against Jews. "Maybe he should pay a visit to their archives."
Facebook didn't immediately respond to requests for comment.
Sueddeutsche Zeitung has been criticized in the past for appearing to defame Jews. Last July it was forced to apologize after printing a picture caption that likened the state of Israel to a ravenous monster. The paper said at the time that it regretted any "misunderstandings."