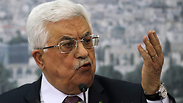 Palestinian President Mahmoud Abbas
Photo: EPA
A senior official within the Fatah movement warned that the next Palestinian leader might return to violent resistance should peace talks fail, Israel Radio reported.

"It is not detached from reality," the official said regarding the possibility that the yet unknown political heir to Palestinian President Mahmoud Abbas will choose to return to an armed struggle should a peaceful solution failed to be reached.

"If diplomatic negotiations will no bare fruit, and there will be no hope or prospect, it is possible Fatah will give up and return to its old ways," the senior official told Israel Radio.

Related stories:

He noted that it was still too early to speak about a successor to Abbas, but stressed that the issue of appointing a deputy to the Palestinian president was a complex one, still in initial stages.

He did not reject the possibility that Abbas' successor would be selected from outside Fatah's ranks and could be someone currently serving time in an Israeli prison – a possible reference to jailed PLO official Marwan Barghouti.

Elections for Fatah's internal political and administrative organs are scheduled for later in the summer.
Terror on decline
A 2010 poll conducted among Palestinians after the deal to free Israeli soldier Gilad Shalit revealed that support for Fatah among residents of the Palestinian Authority was not damaged and that support of terror was declining.

The Palestinian Jerusalem Media and Communications Center (JMCC) poll revealed, the majority of respondents (56.3%) opposed the resumption of violence against Israel, compared to 45.5% in April 2008. Furthermore, the percentage of supporters of terror operations dropped to 29.3% in this poll, compared with 49.5% in April 2008.

A secret 2014 report by one of the Palestinian security services – obtained by Ynet – painted a worrying picture about a possible surge in West Bank terror in the coming year. The report warned that it was highly probability that a third intifada would erupt if the current round of US-backed peace talks is unsuccessful.

The report's authors recommend that the Palestinian civilian authorities and the security services draw up a plan to cope with any escalation in demonstrations, in order to reassure the public that the Palestinian Authority is properly positioned to deal with such events.

According to the report, if the current round of negotiations fails, there will be marked rise in "spontaneous attacks" in 2014. The authors believe that Hamas will change its strategy and shift resources away from its civilian programs to covertly resume its militant activity in the West Bank.

The report also warned of increased activity by al-Qaeda -inspired Salafist terror cells. The report warns of the potential recruitment of students and young Palestinians studying abroad in countries which have an al-Qaeda presence. It also highlights the danger posed by Palestinians fighters returning from fighting for the rebels in Syria.

Some of the Palestinians who answered the call to jihad in Syria had sided with Jabhat al-Nusra Front, a radical branch of al-Qaeda operating against the regime of Syrian President Bashar Assad. The report warns of the possibility that they may set up al-Qaeda terror cells upon their return to the West Bank.