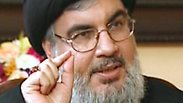 Hezbollah leader Nasrallah
Photo: AFP
After almost two days, Hezbollah admitted Wednesday that an airstrike in Lebanon widely attributed to Israel did hit one of its bases on the Lebanon-Syria border, but insisted that no one had been killed, and vowed revenge.
"The new aggression is a blatant assault on Lebanon and its sovereignty and its territory...The Resistance (Hezbollah) will choose the time and place and the proper way to respond to it," a statement on the group's Al-Manar television station.
The announcement appears to contradict earlier claims that four Hezbollah fighters, including a senior commander, had been killed in the strike.
Al-Manar initially insisted Monday that there was "no raid on Lebanese territory," reporting only the "strong presence of enemy planes over the area north of Bekaa" in eastern Lebanon.
The airstrike, believed to have been carried out by Israel, killed four Hezbollah members and took out "a missile shipment from Syria", the Lebanese newspaper The Daily Star reported early Wednesday.
According to the report, the assault targeted took two trucks, one containing missiles and the other missile launchers, which were being transported to Hezbollah missile warehouses in Lebanon.
Related stories:
Israeli source tells Time Magazine Israel is behind Lebanese airstrikes
Netanyahu: Israel does whatever necessary to protect its safety
The paper quoted a "security source" as saying that the Israel Air Force had fired four missiles at the trucks, which were carrying "qualitative" weapons.
Meanwhile, Time Magazine on Tuesday quoted an Israeli official as saying that Israel was responsible for the attack, and that the convoy had apparently included missiles with larger and more dangerous warheads than ones already in Hezbollah's possession.
Since the 2006 Second Lebanon War, which saw Israel battle Hezbollah for more than a month, the militant group has built up an arsenal of tens of thousands of missiles, which are directed at population centers in Israel.
Although Israel has refrained from taking sides in the Syrian civil war, Prime Minister Benjamin Netanyahu has repeatedly vowed to take action to prevent Hezbollah from obtaining "game changing" weapons from its ally Syria. Past alleged Israeli airstrikes are believed to have targeted Russian-made anti-aircraft missiles and guided missiles from Iran. Israel has never confirmed the airstrikes.