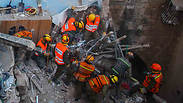 Ruins of Acre building destroyed by blast
Photo: Avishag Shaar-Yashuv
It has been cleared for publication that three people were arrested in connection to a blast which ripped through a residential building in Acre last week and left five people dead.

One of the three has been remanded for an additional six days.




Five people were killed last Monday morning in an explosion at a residential building near the northern port of Acre. The blast destroyed the building caused sever damage to those surrounding it.

The victims of the blast have been named as Nasser Aldin Sarhan, aged 8, his father Riak Sarhan, aged 55, his mother Nagah Sarhan, aged 51, and married couple Mohammed and Hanan Bader, aged 43 and 38 respectively.

Related stories:

Relatives of those arrested reject the claims, saying the arrests are a bluff: "We live next to the destroyed structure, they can't harm us. The police should search for the truth and arrest those responsible for the blast."

Another relative said "everyday we hear something new. The police are arresting everyone who helped extract people from the rubble."

The blast ripped through the apartment block at around 2 am, destroying the three-story building and leaving residents trapped under the ruins of the destroyed building.

The explosion was initially attributed to an explosion by a gas cylinder, but police are now exploring a criminal element connected to a dispute over an illegal antenna placed on the roof of the building. Police and local government officials were circumspect, but admitted that there could be a link.

All the buildings in the Old City of Acre, where the blast occurred, had taken down their cellular antennas; the building that collapsed was the only one that did not do so.