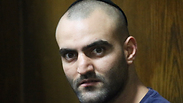 Hagai Felician
Photo: Motti Kimchi
A dramatic turn of events occurred Wednesday when police decided to release the prime suspected in the Barnoar center murder spree to house arrest, after confonting him with the state witness on the case.
"You ruined my life. You cheated your community. You cheated an entire country and were prepared to send me to two life sentences," Hagai Felician, the main suspect, told the state witness during their confrontation.
Felician, who was at the point of tears, also lashed out at one of the investigators: "You are the man who wants to bury me." The investigator responded: "If that was true you wouldn't be standing here."
Prosecutor Oshra Gaz explained the decision to release the police's chief suspect: "The state made new discoveries which challenged the core evidence. After the discovery a new investigation was opened into the tampering and falsification of evidence by the witness. With the advice of the Attorney General and the police we decided to release Hagai Felician."
Related stories:
The state witness' attorney, Yair Regev, said: "I expected the police to release Hagai Felician right after incriminating words were attributed to him. I hope that they will now focus on solving the murder and finding the real perpetrators."
"As for the state witness, he did not work alone but cooperated with the investigators, thus they cannot complain about his actions, only their own," Regev added.
Felician's lawyers also responded to their client's release from custody: "The justice system won. It is not the suspect in a murder who goes home but an innocent man. The state witness is a liar. The police chose to indict an innocent man. They slaughtered Hagai in the public square."
They added, "The police misled the country in the Barnoar affair."
Unexpected developments
In an unexpected twist last week, the state witness was arrested on suspicion of falsifying evidence to convict Felician in a manner which would lead to the case's dismissal. The police and the prosecutor's office announced they will look into the matter, but it is clear that they began to question the veracity of the key evidence in the murder trial.

Over the weekend the police confronted the state witness with his former partner, a tactic which they plan to continue with other acquaintances, including those who have cut ties with the state witness years ago.

At a hearing appealing the arrest of the state witness Sunday, a representative of the police said: "We are talking about incriminating a man for murder; the Halacha would consider this as if he committed the murder himself."