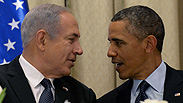 Netanyahu and Obama
Photo: GPO
US President Barack Obama "plans to plunge back into" Israel-Palestinian peace efforts, beginning with an "urgent appeal" to Prime Minister Benjamin Netanyahu, the New York Times reported Thursday.

Quoting Obama's advisors, the Times says that Obama will push Netanyahu to agree to the proposed framework agreement currently being drafted by Secretary of State John Kerry, who is leading the negotiations presently underway between Israel and the Palestinians.

Obama and Netanyahu are due to meet at the White House at the start of next week. And Obama is expected to make a similar appeal to Palestinian President Mahmoud Abbas when the latter also visits the White House later in the month, the report says.

Related stories:
Right-wing MKs skeptical, hostile at meeting with US envoy
According to the Times, US officials say that American aim is to present the framework - which will lay out a plan for more talks - by the end of April, when the nine months of talks come to an end and a peace agreement is expected.
An unnamed senior American official told the Times that, "Now is a very timely opportunity for him (Obama) to get involved", given that the Israeli and Palestinian leaders have made little headway in reaching any form of agreement.
The White House, a senior official said, has sought to "redeploy" the president, who has never lost interest in Mideast peacemaking, only when he could be most effective. That time, the White House purportedly believes, is now.
US Ambassador Dan Shapiro has also been playing his part in the negotiations, meeting earlier this week with right-wing members of the Knesset, who made very clear their lack of faith in the Obama administration and the efforts underway to reach a peace deal.
Netanyahu's most recent visit to the White House was in September 2013, and followed a five-day trip to Israel by Obama in March of that year.