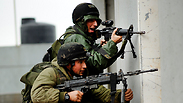 An elite police force disguised as Arabs raided a large building in the Palestinian village of Birzeit, north of Ramallah, early Thursday morning in order to detain wanted Palestinians who are suspected of hostile terrorist activity.

During the arrest, the force captured two of the suspects, however a third one refused to leave the building and barricaded himself within it for several hours. The forces began firing warning shots while shouting and calling on the suspect to exit the premises and turn himself in. The Israeli force eventually opened fire towards the building and knocked part of it down with a bulldozer, and killed the suspect.

The operation was executed against the backdrop of recent increase in IDF-carried arrests of Palestinians suspected of hostile terrorist activities.

Following the event, violent clashes ensued between Palestinian activists IDF forces who closed down the entries to the village.

The IDF's weekly magazine Bamahane ("in the camp") noted in its latest edition that during 2013, on average, 200 Palestinians were arrested every month. In January 2014, some 330 wanted Palestinian suspected were arrested.

Among the offenses that were alleged to the detained Palestinians were stone and Molotov cocktail throwing, carrying weapons and placing of explosives.

Yoav Zitun contributed to this report.