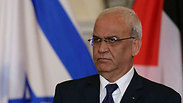 Chief Palestinian negotiator Saeb Erekat
Photo: AFP
Chief Palestinian negotiator Saeb Erekat on Thursday rebuffed US moves to extend an April deadline for nine months of talks with Israel, aimed at reaching a framework peace deal, saying Israel was acting in good faith.

"There is no meaning to prolonging the negotiation, even for one more additional hour, if Israel, represented by its current government, continues to disregard international law," the Palestinian official told AFP news agency, in an apparent reference to Israel's continued settlement construction in the West Bank.

Army Radio reported last week that Washington will demand Israel implement a partial settlement freeze once US Secretary of State John Kerry presents his framework for extending peace talks.

The New York Times reported Thursday that US President Barack Obama "plans to plunge back into" Israeli-Palestinian peace efforts, beginning with an "urgent appeal" to Prime Minister Benjamin Netanyahu when the two meet next month.

Quoting Obama's advisors, the Times says that Obama will push Netanyahu to agree to the proposed framework agreement currently being drafted by Kerry, who is leading the current round of negotiations.

Earlier this month, Erekat said that if US-brokered peace talks fail to result in an accord, the Palestinians would call for an economic boycott of Israel.

American officials expressed great concern over the chief Palestinian negotiator's remarks, saying that "it's important to create a positive atmosphere around these discussions. The personal attacks, quite frankly, are unhelpful, and (Kerry) will make clear that these kinds of comments are disappointing, that they are unhelpful, especially coming from someone involved in the negotiations, indeed the lead negotiator."

AFP contributed to this report.