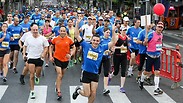 Tel Aviv marathon
Archive photo: Ronen Topelberg
Several main streets in central Tel Aviv will be closed to traffic Friday due to the 2014 Tel Aviv marathon. Heavy traffic is expected in the city during the race and police strongly recommend the public to use public transportation to access the city center.
According to the municipality's website, the following streets will be alternately closed between 4:00 – 13:00 for traffic and parking:
North Tel Aviv: Rokach Blvd., HaTa'arucha St., Levi Eshkol St., Shai Agnon St., Yunizman St, the Tel Aviv Port, Road 2040 and Glilot Junction.
West Tel Aviv: Hayarkon St., Herbert Samuel St., Koifman St. and Goldman St.
Central Tel Aviv: Dizengoff St., Allenby St., Tarsat St., Ben Gurion Avenue, Menachem Begin Road, Kaplan St., Hashmonaim St., Ibn Gabirol St. and Marmurek St.
South Tel Aviv and Jaffa: Jerusalem Avenue, Hertzel St., Elifelet St. and Haaliya Hashniya St..
Furthermore, traffic will be blocked on all streets bordering and crossing the abovementioned streets.
Namir Way/Menachem Begin Rd. will be closed to traffic from 7:30 – 10:30 between Glilot and Tnuva junction. Ayalon Highway will remain open throughout the race, but entrances and exits for Rokach, Halacha and HaShalom interchanges will be closed.
See the marathon website for more details.
Related stories:
According to the Meteo-Tech company, comfortable weather conditions are forecast for Friday, with a maximum of 20 degrees, and temperatures are not expected to reach heatwave levels.
Tel Aviv Municipality is feeling confident in light of the optimistic weather forecast: "The Municipality will follow instructions given by the Health Ministry and the doctors patrolling the marathon route. The organizers are prepared to stop the marathon at any stage if the heat exceeds the limit approved by the committee. In addition, the amount of bottles of water distributed to runners is far greater than what the committee demanded."
Last year's marathon was overshadowed by the death of Michael Michaelvich, a 30-year old sergeant major in the IDF who died after falling ill while participating in the 2013 Tel Aviv half-marathon.
Dozens of runners were hit by the massive heat last year: 80 participants needed medical treatment during and after the race.
Magen David Adom medics initially reported that the injured were unconscious and undergoing artificial respiration, a few even requiring CPR.
The calm weather expected Friday has officials feeling hopeful that the 2014 marathon will run as planned.
Shahar Hay and Oren Aharoni contributed to this report.