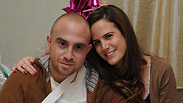 Captain Ziv Shilon with girlfriend Adi.
Photo: Yisrael Yossef
Captain Ziv Shilon, who was critically wounded in a 2012 terror attack on the Gaza border fence and lost his hand, surprised his girlfriend in front of 1,500 people during a conference in the US. With a shaky voice and tears in her eyes, nodding Adi managed to say "yes" to Shilon's marriage proposal.

In the midst of all of the excitement, Ziv and Adi's families appeared on the screens in the conference hall in a video call from Israel to congratulate the couple on their engagement.

Watch the heartfelt proposal below.

Surprise marriage proposal (צילום: מעיין אוחנה, ״דבי תקשורת״)

Shilon chose to propose at the annual Friends of the IDF conference that took place on Thursday night in Miami. He surprised Adi during an emotional speech in which he told the audience about his critical injury, the long rehabilitation process, dealing with the loss of his hand and the severe injury in his other hand. Shilon also talked about the great importance of the American community's donations to IDF soldiers.

Related stories:

At the end of his speech, 26-year-old Shilon asked the audience for one more minute of their time. He wanted to take advantage of the special occasion and invited on stage his girlfriend of four years Adi, 25, who was by his side throughout his hospital stays in the last year and a half since his injury. When Adi went on stage, Ziv surprised everyone by presenting his girlfriend with a ring and asking, "will you marry me?"

Shilon's mother Margalit congratulated the happy couple, to the sounds of cheers from relatives in her home in Beersheba, and said: "We continue to pray and hope that, God willing, his remaining hand will be able to function and put the ring on Adi's finger without help on their wedding day."

After the families finished congratulating the couple, Prime Minister Benjamin Netanyahu surprised the two by appearing on the conference hall's screens to wish the happy couple and their families Mazal Tov, and greeted conference goers.

The Friends of the IDF organization raises money for welfare and educational activities for IDF soldiers and their families. The organization was founded in 1981 by a group of Holocaust survivors as a non-profit organization aiming to support educational, social and cultural facilities and programs for IDF soldiers and bereaved families.

The organization gives scholarships to released soldiers, provides financial aid to needy soldiers using grants and food stamps, supports bereaved families and funds vacations for combat units. The organization also helps wounded soldiers during their stay in rehabilitation facilities and funds flights for lonely soldiers to see their families abroad.