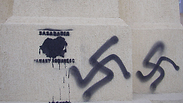 Swastika on a synagogue in Moldova (Archive)
Photo: Courtesy of Chabad Info
As Russian troops are entering Ukraine's Crimea region, a swastika and the inscription "Death to the Jews" were found on the Reform Ner Tamid synagogue in Simferopol, forumdaily.com reported.

"Clearly, it was important for the anti-Semites to commit this crime.

Rescue Donation

International Fellowship of Christians and Jews responds to Ukrainian rabbis' cry for help by sending emergency aid to beef up security at educational institutions and Jewish community centers.

Since the crisis began prices went up by 30%, pensions aren't being paid. As usual, Jews are blamed (for) these disasters and Jews are held responsible. I am afraid to think how this will progress," said Anatoly Gendin, the head of the Association of Jewish Organizations and Communities of Crimea.

According to Gendin, the perpetrators had to climb over a two-meter fence to spray the graffiti.

Gendin noted this was the first such anti-Semitic attack on a synagogue in the region in 20 years.

Several days earlier, unknown assailants threw several firebombs at a synagogue in Kiev.