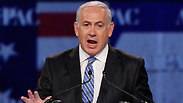 Netanyahu at previous AIPAC conference
Photo: AP
Prime Minister Benjamin Netanyahu wants an accord with the Palestinians, but the onus is on them to recognize Israel as a Jewish state, he told the annual conference of the pro-Israel lobby AIPAC on Tuesday.
Netanyahu speaks at AIPAC (צילום: רויטרס)
While he is "prepared to make historic peace with our Palestinian neighbors," Netanyahu told the conference in Washington DC, Palestinian Authority President Mahmoud Abbas must accept the Jewish state with "no excuses, no delays."
By recognizing a Jewish state, Abbas would be telling his people that while there might be a territorial dispute, the right of the Jewish people to a state of their own is beyond dispute, Netanyahu said.
"President Abbas: recognize the Jewish state... you would be telling the Palestinians to abandon the fantasy of flooding Israel with refugees," he said.
"In recognizing the Jewish state, you would make clear that you are truly prepared to end the conflict," Netanyahu added.
"It's time the Palestinians stop denying history. Just as Israel is prepared to recognize a Palestinian state, the Palestinians must be prepared to recognize a Jewish state," Netanyahu said.
Related stories:
The prime minister said he hopes a peace deal can be reached, but that if one is achieved, it will almost certainly come under attack by Hezbollah, Hamas, al-Qaeda and other militant groups.
He said that while international peacekeepers could help ensure Israel's security going forward - only the IDF can defend its homeland.
Netanyahu's remarks came a day after White House talks in which he bluntly told US President Barack Obama that he would never compromise on Israel's security, even as the American leader sought to reassure him on Iran nuclear diplomacy and pressure him on Middle East peace talks.
Also on Tuesday Netanyahu called Iran a terror state that must not be allowed to obtain nuclear weapons, and pledged that he would do whatever it took to protect Israel.
Warning the international community against Iran's Israeli-dubbed "charm offensive," Netanyahu said Tehran "wheels out its smiling president and its smooth-talking foreign minister. But if you listen to their words, their soothing words, they don't square with Iran's aggressive actions."
"Iran says it only wants a peaceful nuclear program. So why is it building a heavy water reactor, which has no purpose in a peaceful nuclear program? Iran says it has nothing to hide. So why does it ban inspectors from its secret military sites?
"Why doesn't it divulge the secrets of its military nuclear activities? ... Iran says it's not building nuclear weapons. So why does it continue to build ICBMs, intercontinental ballistic missiles, whose only purpose is to carry nuclear warheads?"
Netanyahu reiterated his opposition to the possibility that a deal to curb Iran's disputed nuclear program would allow it to retain some technologies that have bomb-making potential.
"Unfortunately the leading powers of the world are talking about leaving Iran with the capability to enrich uranium. I hope they don't do that, because that would be a grave error. It would leave Iran as a threshold nuclear power," he said.
"This would enable Iran to rapidly develop nuclear weapons," Netanyahu warned. "If we allow this outlaw terrorist state to enrich uranium, how can we seriously demand that other countries not enrich uranium?"
"I will do whatever I must do to defend the Jewish state of Israel," he vowed.
The prime minister rejected claims that Israel was only interested in a military option when it came to Iran, but said that increased pressure was the only way to ensure that the Islamic Republic met its obligations.
"I'm often asked whether Israel truly wants diplomacy to succeed - of course we want diplomacy to succeed," he said. "No country has a greater interest in the peaceful elimination of the Iranian nuclear threat. But this will only be done with an agreement making Iran fully dismantle its nuclear capabilities… Pressure is what brought Iran to negotiating table, only more will get them to abandon (their military nuclear program).
"Greater pressure won't make war more likely, it will make war less likely," he said. "The greater the pressure on Iran and the more credible the threat of force, the stronger the chance force will never have to be used."
The prime minister lashed out at those who advocated a boycott of Israel, calling it detrimental to peace efforts, which was proving unsuccessful in its goal to isolate the Jewish state.
"One movement that's definitely on the wrong side of the moral divide is the movement to boycott Israel, the so-called BDS," he told the crowd. "That movement will fail."
He said countries all over the world, including the emerging nations, were eager to partner with Israel and its great advances. Not only nations, he said, but technological giants too were looking to Israel.
"Beyond our traditional trading partners, countries throughout Asia and Latin America are flocking to Israel. They want Israeli technology to help transform their countries as it did ours. And it's not just the small countries but the super powers a well - Apple, Google, Microsoft, Intel, Facebook, Yahoo. They want to benefit from Israel's ingenuity. The BDS boycott is not going to stop that, the way the Arab boycott can't."
"Everyone should know what the letters BDS really stand for: bigotry, dishonesty and shame," he added.
"Those who wear the BDS label should be treated exactly as we treat any anti-Semite or bigot," Netanyahu said. "They should be exposed and condemned. The boycotters should be boycotted."
Palestinian anger
The Palestinians reacted with anger to the prime minister's speech. Fatah Central Committee member Nabil Shaath told AFP that Netanyahu's speech amounted to "an official announcement of a unilateral end to negotiations."
The prime minister's repeated demand that the Palestinians recognize Israel as a Jewish state and his rejection of Palestinian demands on refugees and international peacekeepers were "totally rejected," Shaath said.
Shaath asserted that Netanyahu's comments, which he has made repeatedly in the past, "contravene all the rules of the peace negotiations agreed with the Americans."
Meanwhile Palestinian official Hanan Ashrawi told The Associated Press that Netanyahu went to Washington "ready to allocate blame without, in any way, showing any sign of willingness to do the right thing - to stop settlement activities, accept '67 borders, accept signed agreements, end illegal actions and move ahead. Instead, he is reiterating his ideological condition of recognition of a Jewish state."
Reuters, AP and AFP contributed to this report.