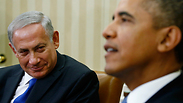 Netanyahu with Obama during last meet
Photo: AP
The American ability to protect Israel against global isolation is waning, US President Barack Obama said in an interview published Sunday, in particular if the Palestinians decide that there is no chance for them to achieve statehood.

"If Palestinians come to believe that the possibility of a contiguous sovereign Palestinian state is no longer within reach, then our ability to manage the international fallout is going to be limited," Obama told Jeffrey Goldberg on Thursday in an hour-long Oval Office meeting.

Obama said that he would warn Prime Minister Benjamin Netanyahu in their meeting Monday that time is running out for Israel as a democracy with a Jewish majority, and would make the case that Netanyahu alone "has the strength and political credibility to lead his people away from the precipice."

Netanyahu left Israel on Sunday for a five-day trip to the US. On Monday, he will meet with Obama at the White House, and on Tuesday he will deliver a keynote speech at the annual policy conference of pro-Israel lobby AIPAC, also in Washington DC.

The president touched on the issue of Israel's settlement construction, which has long been labeled by the Palestinians as key to the success or failure of peace talks; for years the US has attempted to slow down or even freeze the pace of Israeli construction in the West Bank and East Jerusalem.

The Netanyahu government insists that the construction has no real impact on the peace talks, but Obama made clear that he disagreed.

"…We have seen more aggressive settlement construction over the last couple years than we've seen in a very long time," Obama said.

The US is the driving force behind the current negotiations between Israel and the Palestinians, with Secretary of State John Kerry taking the lead. Obama took a caustic tone when he referred to the Israeli leadership's perceived antipathy over the talks.

Obama's comments to Goldberg were almost an echo of remarks by Kerry in recent weeks, which elicited a furious reaction from some of Netanyahu's most senior ministers.

If Netanyahu "does not believe that a peace deal with the Palestinians is the right thing to do for Israel", Obama said, "then he needs to articulate an alternative approach (and) It's hard to come up with one that's plausible."

Obama continuously pointed to issue of time "there comes a point where you can't manage this anymore, and then you start having to make very difficult choices," Obama said.

"Do you resign yourself to what amounts to a permanent occupation of the West Bank?" he posited. "Is that the character of Israel as a state for a long period of time? Do you perpetuate, over the course of a decade or two decades, more and more restrictive policies in terms of Palestinian movement? Do you place restrictions on Arab-Israelis in ways that run counter to Israel's traditions?"

The president even quoted Jewish sage Rabbi Hillel, saying that he intends to tell Netanyahu that: "If not now, when? And if not you, Mr. Prime Minister, then who?"
'Abbas willing to recognize Israel'
Adopting a more conciliatory angle, Obama backed Israel's demand that the Palestinians recognize it as the Jewish nation state, something that the Palestinians have consistently baulked at. Even so, he said, Palestinian President Mahmoud Abbas is a ready partner for a peace deal, and Israel should take advantage of this fact.

Obama "believes that President Abbas is sincere about his willingness to recognize Israel and its right to exist, to recognize Israel's legitimate security needs, to shun violence, to resolve these issues in a diplomatic fashion that meets the concerns of the people of Israel.

"And I think that this is a rare quality not just within the Palestinian territories."

The president also reiterated his stance that a military option was still on the table when it came to Iran, despite his desire to resolve the issue of the Islamic Republic's nuclear ambitions, and this was a stance that Tehran did not underestimate.

"…we have a high degree of confidence that when they (Iran) look at 35,000 US military personnel in the region that are engaged in constant training exercises under the direction of a president who already has shown himself willing to take military action in the past, that they should take my statements seriously," he said. "And the American people should as well, and the Israelis should as well, and the Saudis should as well."

Saudi Arabia, like Israel, is one of the most vocal opponents of Iran's nuclear program. And like Israel, the Kingdom views Iran as a genuine threat.