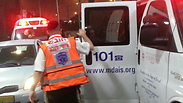 MDA paramedics evacuating victim
Photo: Yehuda Rachamim, Chadashot 24
A 33-year-old man from Bnei Brak was stabbed at the entrance to Petah Tikva Sunday. The man sustained moderate injuries, and received assistance from drivers in passing vehicles.
Police suspect that there was a nationalistic motive behind the stabbing, but are investigating other possibilities.
A Magen David Adom team later arrived at the scene, under the Geha bridge, and evacuated the victim to the Rabin Medical Center in Petah Tikva. Following the attack, the assailant fled the scene, but police later arrested several people suspected of involvement in the incident.
At the time of the attach the victim was walking with a group of ultra-orthodox men. After he was stabbed a driver passing by drove him to a gas station on Jabotinsky Street in Bnei Brak, where he was given treatment by MDA Paramedics.
Related stories:
"He was fully conscious and had suffered stab wounds to his upper body," said paramedic Guy Arazi. "We gave him initial medical treatment at the area and later evacuated him to the Rabin Medical Center in Petah Tikva Trauma Unit."
The victim recalled that attack, saying "I felt that someone hit me and then I noticed the stab wound."
Dr. Basam Bashara, a senior surgeon at the Trauma Unit at Rabin Medical Center in Petah Tikva, said that the victim came after suffering a stab to his upper abdomen.
"Following initial assessment and treatment by the emergency room team and trauma unit, it was decided to keep him at the hospital for observation. He underwent heart catheterization and his condition is stable."
Gilad Morag contributed to this report.