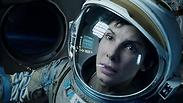 Sandra Bullock in 'Gravity'
Israel may not have had a film in the game this year, but for one Israeli in the industry Oscars 2014 will indeed be a year to remember.
Niv Adiri, from Kfar Vitkin in central Israel, was one of a team of four sound engineers who picked up a golden statuette on Sunday night for his work on the multi-award winning "Gravity."
And the Winners are...
Scrappy, low-budget film 'Dallas Buyers Club,' a biopic of an early AIDS activist, wins three Oscars, including two male acting awards. Cate Blanchett named best actress for her acclaimed role in Woody Allen's 'Blue Jasmine.'
The technologically ground-breaking sci-fi blockbuster stars Sandra Bullock and George Clooney as two astronauts stranded in outer space when their space station is destroyed in a freak debris storm.
"It was a perfect evening," Adiri told Army Radio on Monday morning. It is an honor to hold that statue. When I heard my name, I couldn't believe it. I cannot describe the feeling."
"The movie is so different and so unique, that it gave us a certain edge," he told the radio. "In space there is no sound so that made my work a little different... the sound needed to add to the movie in a different way."
"It's like a dream," he said, "but apparently it's real."
Adiri won the Best Sound Mixing Oscar along with colleagues Skip Lievsay, Christopher Benstead and Chris Munro. The team also picked up the British academy award, the BAFTA, for his work on the movie.
"Gravity" took home a total of seven Oscars on Sunday night, including the Best Director award for Alfonso Curaon.