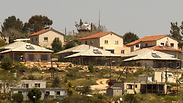 West Bank settlement
Photo: AFP
New Israeli settlement construction in the West Bank increased by more than 120 percent in 2013 from the year before, according to new data published by the Central Bureau of Statistics on Monday.

The data shows that there was a growth of 123.7 percent in "dwellings begun" in Judea and Samaria in 2013, comprising some 5.7 percent of all new construction by Israel last year.

According to the CBS data, Israel started construction on 2,534 housing units in Judea and Samaria, compared to 1,133 housing units in 2012. On the other hand, there was a dramatic 19 percent drop in the number of housing units built in the Tel Aviv area.

In 2013 there was a 12 percent rise in the number of housing units Israel started building in southern Israel, and an eight percent rise in the Haifa area. There was only a one percent rise in northern Israel, while the Jerusalem area saw a 3.4 percent rise.

In total, the number of housing units Israel has started building rose 3.4 percent compared to 2012.

Of Israel's total population of 8,000,000, some 350,000 - roughly 4.4 percent of the population - live in the West Bank.

The release of the information comes as the US is reportedly putting pressure on Israel to reduce or partially freeze its construction in the West Bank. The Palestinians have repeatedly expressed their opposition to the building of settlements by Israel, saying it impairs their chances of establishing a territorially contiguous state in the area.

Prime Minister Benjamin Netanyahu's government insists that the construction has no real impact on the peace talks, but US President Barack Obama, who was due to meet with the Israeli leader at the White House on Monday, made clear that he disagreed.

"Now it's official. The Netanyahu government is only committed to one thing: settlement construction," Peace Now director Yariv Oppenheimer said after the CBS report was published.

"They're unimpressed by neither the diplomatic process nor the housing problem. Israel's resources and public construction are turned to areas way beyond the Green Line," he added.

Netanyahu left Israel on Sunday for a five-day trip to the US. On Monday, he will meet with Obama at the White House, and on Tuesday he will deliver a keynote speech at the annual policy conference of pro-Israel lobby AIPAC, also in Washington DC.

Speaking to journalist Jeffrey Goldberg of Bloomberg, the president said that, "We have seen more aggressive settlement construction over the last couple years than we've seen in a very long time," Obama said.