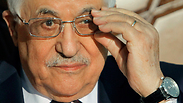 Palestinian President Mahmoud Abbas met with Meretz Chairwoman Zahava Gal-On at the Muqata in Ramallah on Monday to discuss developments in the peace process.

Abbas warned the Israeli faction leader that he will not extend negotiations if the framework agreement doesn't deal with the core issues: "I will put the keys on the table and turn to international organizations."

The PA leader stressed that the Palestinians will only agree to an extension of the peace talks "if Netanyahu declares a construction freeze in the settlements and a further release of prisoners after the next round," referring to the third and final wave of prisoners set to be released by Israel – the good-will gesture which brought the Palestinians back to the negotiations table.

At the meeting in Ramallah, Abbas told Gal-On that the key markers moving forward are the third round of prisoners' release and the agreed-upon end of the nine-month period of negotiations: April 29.

Related stories:

Obama passed a subtle threat to Prime Minister Benjamin Netanyahu during an interview with Bloomberg's Jeffrey Goldberg – and right before the two leaders' meeting at the White House – that if Israel rejects the Kerry agreement, it may face a bleak future and international isolation.

The American president claimed that Abbas is a willing partner for peace, though the Palestinians have yet to accept the conditions of the Kerry agreement.

Abbas reiterated the Palestinian demand on several core issues, telling the Meretz leader that the Palestinians should have East Jerusalem, and that the two capital cities should be managed through the mediation of an institution that will coordinate between the two sides.

According to Gal-On, Abbas said that the claim that he intends to give the right of return to five million Palestinians is a joke: "I do not want to destroy Israel, and no refugee will return to Israel without the agreement of the Israelis."

Nevertheless, Abbas does believe in a limited right of return: "I do expect Israel to present an annual quota for refugees that it will absorb.

On the controversial matter of land swaps, Abbas declared: "What the Israelis are offering is not a proportional swap of 1 to 1, but swaps that are dependent on demographic developments."

Attila Somfalvi contributed to this report.