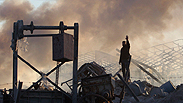 Illustration
Photo: Reuters
Israeli Air Force jets struck a terror target in northern Gaza Strip Monday evening. Palestinian sources claimed two meb were killed and two others were injured in the Israeli strike, which targeted a terror cell.

The attack took place shortly after an alarm sounded in the nearby Hof Ashkelon Regional Council. The rocket apparently landed in Palestinian Authority territory.

The last IAF strike in the area took place Friday evening, when another terror target was hit in northern Gaza. The IDF stated that the attack was aimed to remove immediate rocket threat into Israeli territory. Sources within the Gaza Strip stated there were no injuries in the event.

A week earlier, two rockets landed in open fields in Israel. There were no injuries or damage reported in the events.

Elior Levy contributed to this report.