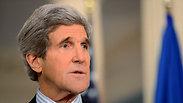 Secretary of State John Kerry
Photo: EPA
WASHINGTON – After the Crimean crisis stole the limelight from the Israel-Palestinians negotiations at the press conference conducted by President Barack Obama and Prime Minister Benjamin Netanyahu earlier Monday, Secretary of State John Kerry returned the focus to the Middle East during his speech at the AIPAC Policy Conference Monday night.

Kerry used the opportunity to respond to criticism by certain officials in Israel that he is "obsessive" about the negotiations because he wants to win a Nobel Peace Prize: "This isn't about me. This is about the dreams of Israelis and the dignity of Palestinians."

The American official continuously highlighted the strong alliance between the US and Israel, who have been reportedly under heightened tensions due to the increased settlement construction in Israel: "Like no other two countries on the planet, against the deepest odds, both America and Israel confidently, purposefully set out to be examples to the world."

Kerry, who has been pushing for a framework agreement between Israel and the Palestinians, and set a record for number of visits by an American secretary of state to the Middle East, stressed President Obama's focus on the peace talks: "With the leadership of President Barack Obama, whose complete commitment to Israel's security is unmatched – whose administration's record is unrivaled – and whose bottom line is – pure and simple – making sure that Israel has the means to defend itself, by itself – and defending Israel's right to do so."

Related stories:

Addressing the Iranian nuclear program, Kerry said: "This is not about trusting Tehran. This is about testing Tehran. And you can be sure: If Iran fails this test, America will not fail Israel."

Kerry further stressed that a final nuclear deal with Iran will only be signed if the Islamic republic will not be able to obtain a nuclear weapon and will remain under constant American and global supervision.

Kerry emphasized that his endeavors are not related to any personal ambition, but emanate from a stern belief that the Israeli-Palestinian conflict is ripe for resolution: "I also believe we are at a point in history that requires the United States, as Israel's closest friend and the world's pre-eminent power, to do everything we can to help end this conflict once and for all."

Finally, Kerry addressed the talk that Israel may face boycotts from a wide variety of global actors if the current round of talks flounder, and the harsh criticism directed at the US secretary of state for raising the topic recently: "In order for Israel to continue thriving economically, we must also stand together and with a single voice reject arbitrary and unwarranted boycotts of Israel."

The secretary of state emphasized: "For more than 30 years, I have staunchly, loudly and unapologetically opposed boycotts of Israel – and I will continue to staunchly, loudly and unapologetically oppose boycotts of Israel. That will never change."

Daniela Regev contributed to this report.