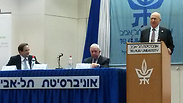 Shaath and Meridor talks two-state solution
Photo: Margarita Erbach
Former Israeli and Palestinian peace negotiators made an impassioned plea Monday for a two-state solution, saying that it was the only viable way to resolve the decades-long conflict between the two sides.
"I believe in a two-state solution where I can live, go in and out, have water and use the land and work together," said Nabil Shaath in a public discussion on a final status agreement, held at Tel Aviv University together with former Israeli deputy prime minister Dan Meridor.
The former Palestinian chief negotiator and member of Fatah Central Committee told the audience that it took Israelis and Palestinians 14 years, from 1974 until 1988, to agree to a two-state solution.
"Either we want to live in one state or we divide it into two states. Neither of us is going away," Shaath said. But the idea of a bilateral state was never accepted by the Israelis, he claimed, "so there's only a two-state solution."
Israel should abandon the asymmetry of power. Best would be to divide it, like Rome and the Vatican, but have one municipality.
Yet the veteran negotiator warned that this option would be impossible to actualize if the Israelis continued to settle in more and more areas of the West Bank. Israel, he claimed, should at least stop using all the water and give the Palestinians equal access to it, he reiterated, accusing settlers of taking 12 times as much water as the Palestinians.
About 80 percent of the Palestinians backed a two-state solution, Shaath noted, while Meridor mentioned a similar percentage of Israelis were also in favor.
However, Meridor stated, if there is a one-state solution, it should be a state with equality for all.
He stressed that Israel should set goals, including reaching a permanent two-state solution, though he advocated for putting the contentious issue of Jerusalem aside initially to allow progress. Israel would win from not being occupiers any longer, and the Palestinians would no longer be the underdog. The sides had come close to reaching a solution, he claimed, but ultimately had failed to do so.
Shaath insisted that both sides should understand the narrative of the other.
"We (the Palestinians) have to understand the Holocaust in order to live with the Jews", he underlined, and Israelis also had to study the narrative of the Palestinians and their wounds.
The current round of peace talks between Israel and the Palestinians began in August 2013, with a nine-month deadline. With the end date looming, US Secretary of State John Kerry, who is driving the negotiations, is seeking to extend the talks.
The event was jointly organized by the Mediation and Conflict Resolution program at Tel Aviv University, the Palestinian Committee for Interaction with the Israeli Society, and Israel-Palestine: Creative Regional Initiatives (IPCRI), in conjunction with the Swiss government.