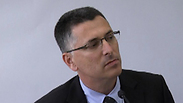 Interior Minister Gideon Sa'ar
Photo: Eli Mandelbaum
"This year was a turning point - there are less (African) infiltrators in Israel every week," Interior Minister Gideon Sa'ar said Tuesday.

Sa'ar confirmed African migrants were leaving Israel for two other third-party countries, but did not elaborate which countries these were.

However, this departure only happens in small numbers, and most migrants leaving Israel are returning to their countries of origin, Sa'ar said at a press conference marking a year to the current government.

Related stories:

The interior minister stressed Israel was not banishing the African migrants, and said that the move to encourage African migrants to leave Israel for other countries has been approved by the attorney general and is done "by choice and out of free will."

African asylum seekers and rights groups have recently criticized Israel's definition of "leaving willingly," saying people who are threatened with imprisonment if they do not leave have no real choice in the matter.

Sa'ar claimed the reduction in the number of migrants still in Israel is a result of all of the measures taken, including the anti-migrants law, the opening of the Holot detention facility in the south and offering money incentives to those who leave.

"There's a majority of Sudanese over Eritreans leaving to return to their countries of origin. But there is also an increase in the number of those leaving and seeking to go to Eritrea," he noted.