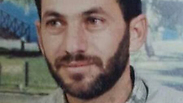 An IDF unit working undercover in Hebron arrested Ayoub al-Qawasmi on Tuesday evening, one of the commanders of Hamas' military branch in the West Bank and one of Israel's most wanted suspects.

Qawasmi, 50, is suspected of being involved in terrorist attacks against Israelis during the Second Intifada and has recently sought to renew Hamas' terror infrastructure in the West Bank.

Qawasmi was imprisoned by the Palestinian Authority in January 2010 and was released only two weeks ago. Since then, Israeli security forces have launched a manhunt to find him.

Related stories:

Just as he did during the Second Intifada, Qawasmi was behaving recently like someone who knows he is being hunted, and frequently changed identities and apartments.

He was arrested following intelligence received by the Shin Bet.

Palestinian sources said soldiers from Duvdevan's undercover unit arrived at a store that belongs to Qawasmi's family in a car with a Palestinian license plate to arrest him. No one was hurt during the raid, and Qawasmi was taken for questioning.

The IDF confiscated security cameras that were around the store as well as a computer from inside the store.

A Palestinian security source told Ynet that Qawasmi has been wanted by the IDF since 1998.