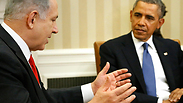 Prime Minister Netanyahu and President Obama at the White House.
Photo: Reuters
WASHINGTON — US President Barack Obama committed to Prime Minister Benjamin Netanyau he would push Palestinians to match any Israeli concessions as he seeks to negotiate a framework for peace talks.

A senior Obama administration official told AFP that the issue of US-brokered Israeli-Palestinian peace talks was the dominant topic in the White House meeting between Obama and Netanyahu on Monday.

Despite frank statements on Middle East diplomacy before the meeting from both leaders, the talks were not as contentious as some previous encounters between the two men, the official told AFP Tuesday.

Related stories:

The talks took place as Obama seeks to bridge gaps between Israelis and Palestinians in a bid to prolong the US-led peace effort led by his Secretary of State John Kerry.

Obama used the meeting to underline how he saw the US peace push as a key opportunity for both Netanyahu and the Israeli people, the official said on condition of anonymity.

Netanyahu made clear to Obama that for the talks to continue, Palestinian Authority President Mahmoud Abbas would have to be prepared to make concessions. Obama undertook to push the Palestinian leader, who will be in Washington in two weeks, as he had done to Netanyahu, the official said.

"It's not as though the Palestinians are going to get a pass," the official said.

Before the talks, Obama had said bluntly in an interview with a Bloomberg View columnist that he would make clear to Netanyahu that time was of the essence in the US drive to agree on a framework between the parties so that peace talks could continue beyond a US-imposed April 29 deadline.

He paraphrased his message to Netanyahyu as "If not now, when? And if not you, Mr. Prime Minister, then who?"

Netanyahu and Obama have in the past had a testy relationship, and the Israeli leader spoke with clear emotion in a photo op with Obama on Monday about the threat he perceives from Iran - even as the US leader tries to conclude a nuclear weapons deal with Tehran.

White House officials have been candid about admitting the differences between the two men in the past -- but said the tone of Monday's talks was not unfriendly.

"It was not a confrontational meeting, it was not a difficult meeting," the official said.