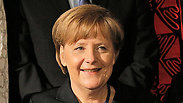 German Chancellor Angela Merkel.
Photo: Reuters
Not too long ago, I received an invitation from the German embassy to meet with a very important person who was coming to Israel. The invitation, which arrived by email, was for a far too early time of the morning. I asked them whom they wanted me to meet, hoping that I could push back the hour on the invitation. With all due respect to the VIP, I have three VIPs at home, and I have to dispatch them to various kindergartens and schools every morning. And unlike diplomats, each of them demands VIP treatment and all have the capricious natures of rock stars. To get from my moshav to Jerusalem by 8am would mean engaging in a full-scale battle with them - and a start time of 5am. A mission impossible indeed, even in light of the diplomatic delight on offer. The political advisor with whom I consulted by phone explained very politely that rescheduling was out of the question. Eventually, he said that I would be meeting with German Chancellor Angela Merkel. The embassy had drawn up a shortlist of several dozen Israelis whom they classed as "other Israelis", and the list shuttled between Berlin and Tel Aviv until only six names remained. A kind of reality show between the German embassy and the German capital.

There are some offers made that absolutely cannot be refused, no matter how early the hour involved. And thus I found myself at dawn on one Tuesday in February, looking spiffy in a jacket, facing three children who had been woken far too early. And after dodging ketchup sprays in an impressive fashion, and with only a half-hour delay, I found myself at the King David Hotel in Jerusalem. I'd missed breakfast, but at least I arrived at Merkel's suite on time.

She entered the room at precisely the appointed hour, equipped with crutches (a souvenir of a recent skiing accident) and three advisors. The photographers photographed, the advisors advised and the meeting began. She had wanted to meet Israelis, she said, without any politicians as intermediaries. We talked - each person raising issues close to their hearts. Present were Alon Shuster, the head of the Shaar HaNegev regional council; Orly Gal, the head of the Natal trauma center for victims of terror and war; Regev Contes from the social protest movement; Ayelet Vider Cohen of the Kolech Orthodox Jewish feminist organization; and Tsega Melaku, a journalist and activist for Israel's Ethiopian community. Sometimes you need a German chancellor to meet good Israelis along the way.

In the past two years, I've met with mid-level government officials who have come to Israel from Europe. Some wanted to talk and persuade, few wanted to listen. When it seemed that Israel was about to attack Iran, these political representatives tried to convince us otherwise, and when the threat level dropped, they returned to the business of making peace. Most of the Europeans who come to Israel bring with them a suitcase of preconceived notions – two-states for two peoples, anti-settlements, pro-'67 lines. Semi-polite criticism of Israel is on the menu. The suitcase is also sometimes packed with support for fringe organizations who engage with movements working for a boycott of Israel.

On the eve of the meeting I received a report from the NGO Monitor organization, which detailed how the aid money from Germany is distributed to groups of this kind. The list includes the Coalition of Women for Peace, which campaigned for a boycott of companies that invest in Israel, and the Zochrot non-profit organization, which promotes the Palestinian right of return and a one-state solution. These two organizations together receive about 250,000 shekels (approximately $72,000) this year. It's not much, but Germany is not alone in making these donations – most of the financial support for the BDS (boycott, divestment and sanctions) organizations comes from Europe.

Organizations fighting battles need money, and the Europeans are looking for information that dovetails with their world views. Few concern themselves with the fairness of it all. The truth is just another tool in the business of finance. And this is how European Parliament President Martin Schulz made his mistake in his speech to the Knesset three weeks ago, when he spoke about the distribution of water to the Palestinians.

The meeting with the chancellor was different. Israelis were sitting there talking in Zionist terms. Not leftwing and not rightwing, but practical Zionism, with all the bitter and the sweet that comes with it. From her cushioned armchair Merkel sat and listened, the advisors took notes, and I tried to remember the last time an Israeli prime minister sat and listened for an entire hour. When my turn came, I spoke about the significance of a Jewish state and about human rights.

Merkel recognizes the Jewish state, she has said so and says so openly. In the rest of Europe they are scared to take a stand, lest they be perceived as unfair to the Palestinians. Their fear is my fear only in reverse. One cannot be relevant to the processes underway here if one does not recognize Israel as the Jewish nation state and at the same time a democracy. Zionism was based on justice, and the State of Israel is still looking to receive it.

Justice is a subjective thing, but there also has to be a healthy balance of values. In recent years, the European radical left has seen the issue of human rights as a weapon to be used against the only democracy in the Middle East. The State of Israel makes mistakes and has no real policy on Judea and Samaria, but even so this democracy has created a worthy judicial system, an army that espouses the purity of arms, checks and balances. The mingling of anti-Israel politics and human rights has consumed the moral discourse here and in Europe to absurd levels. I spoke, and Merkel took it in. Maybe she agreed, maybe she was being polite.

Last week, universities in 87 cities around the world marked Israeli Apartheid Week, an initiative that came from Palestinian groups, among them post-Zionist Jews and Israelis. Most students do not get involved, and those that do see Israel beautifully painted black. There is no criticism of Israel and the rights of the Palestinians, but plenty of the right to exist of the Jewish state. This discourse spills over from the campuses to the corridors of power. In Europe, it is influencing policy.

The view from Merkel's hotel room window was the Old City. When heads of states stay at the hotel, they see it but fail to pay attention. The '67 lines don't exist anymore; there is no Utopian peace that works within perceived lines. At best you can create a pragmatic separation. I told her that it's time to think differently. She answered that maybe land swaps were possible. Europe is disconnected from the reality on the ground, is attached to plans on paper. As long as Israel doesn't initiate an agenda, as long as we don't have our own policy on Judea and Samaria, those plans on paper continue to exist.

Sometimes it makes no sense. The best example of that is the Golan Heights. There's no one to give back the Golan to. There is no violation of civil rights there. There are no roadblocks and there is no Israeli-Palestinian conflict. On the other side of the border there's medieval darkness. Despite that, Europe boycotts the Golan Heights, and Israel is making no effort to gain recognition for the justified annexation of the territory that happened 30 years ago.

They say Chancellor Merkel is a tough woman. In our meeting she was mostly a woman who showed an interest. She asked about the haredim and the Arabs, about sharing the burden and about those who elected Alon Shuster as mayor of Sha'ar HaNegev. Next year, we will mark 50 years since the establishment of formal Israeli-German relations, while I, as a third generation of the Holocaust, still have a hard time hearing German. I believe her when she says she wants to strengthen the ties and that she wants to listen to us. But Europe is busy with its own internal affairs. The struggle over the very character of the continent makes more of an impact than a feud over language. We are just in the way – a reminder of what was, a mirror to what is.