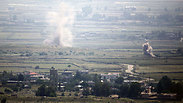 Syrian infighting on Golan as viewed from Israel
Photo: AFP
A week after Israel reportedly launched an airstrike against Hezbollah along the Lebanese-Syrian border, IDF troops shot two Hezbollah fighters who tried to plant a bomb on the border fence between the Israeli side of the Golan Heights and the Syrian-held territory on Wednesday, the army said.
An IDF spokeswoman said Israeli intelligence had identified the men as members of Hezbollah, which is helping Syrian President Bashar Assad fight a three-year-old rebellion and fought with Israel during the 2006 Second Lebanon War. Since then Hezbollah and Israel have built up strength since but have largely avoided direct confrontation.
She had no immediate word on their condition; no soldiers were wounded in the incident.
A military source spoke to Ynet and confirmed the Hezbollah men did not cross the into Israel, but only attempted to place an explosive along the border fence. "We are probably dealing with an attempted explosive (attack) led by Hezbollah. Two Hezbollah fighters were shot," the source said.
On Twitter, the IDF confirmed the attack and wrote "Earlier today, 2 Hezbollah terrorists tried to plant an explosive near Syria border. IDF forces fired at suspects & confirmed direct hits."
IDF forces near border fence (צילום: אביהו שפירא)
An initial IDF investigation revealed that at roughly 6 am the suspects crossed the official border line between Israel and Syria, and approached the border fence. In IDF scout unit spotted them and alerted elite IDF combat forces while IDF tanks attempted to repel them back with shell fire.
The IDF believe that terror cell was hoping to take advantage of early morning fog to place the explosive unnoticed, with the hopes of detonating soon after on a passing IDF patrol unit.
For the meantime, the explosive is still in the ground and under IDF surveillance. A checkpoint has also been set up near Marom Golan to prevent citizens from reaching the place.
Although Israel has refrained from taking sides in the Syrian civil war, Hezbollah's involvement in the conflict has posed a slew of challenges and threats to Israel. Prime Minister Benjamin Netanyahu has repeatedly vowed to take action to prevent Hezbollah from obtaining "game changing" weapons from its ally Syria. Past alleged Israeli airstrikes are believed to have targeted Russian-made anti-aircraft missiles and guided missiles from Iran. Israel has never confirmed the airstrikes.
Israel did not confirm carrying out the air strike, in keeping with its official silence on at least three such alleged attacks in the last year targeting suspected Hezbollah-bound weapons convoys from Syria. It said it would hold Beirut responsible for any Hezbollah reprisals from Lebanese turf.
Border incidents have also taken place between Israel and Lebanon. Last January, an IDF solider was shot and killed while driving in an army vehicle not far from a military outpost along the Israeli-Lebanese. The soldier, Petty Officer 1st Class Shlomi Cohen, 31 from Afula, and according to an IDF assessments, he was killed by the fire of a Lebanese soldier "who acted on his own accord," the army said.
Blatant assault
Israeli warplanes reportedly struck a position belonging to Hezbollah in eastern Lebanon last Monday. Israel has not acknowledged the raid, but officials have been quoted as confirming a general policy of blocking suspected arms deliveries from Syria to Hezbollah.

Hezbollah admitted Wednesday that an airstrike widely attributed to Israel did hit one of its bases on the Lebanon-Syria border, but insisted that no one had been killed, and vowed revenge.

"The new aggression is a blatant assault on Lebanon and its sovereignty and its territory...The Resistance (Hezbollah) will choose the time and place and the proper way to respond to it," a statement on the group's Al-Manar television station.

The announcement appears to contradict earlier claims that four Hezbollah fighters, including a senior commander, had been killed in the strike.

Al-Manar initially insisted that there was "no raid on Lebanese territory," reporting only the "strong presence of enemy planes over the area north of Bekaa" in eastern Lebanon.

The airstrike, believed to have been carried out by Israel, killed four Hezbollah members and took out "a missile shipment from Syria", the Lebanese newspaper The Daily Star reported early Wednesday.

According to the report, the assault targeted took two trucks, one containing missiles and the other missile launchers, which were being transported to Hezbollah missile warehouses in Lebanon.

The paper quoted a "security source" as saying that the Israel Air Force had fired four missiles at the trucks, which were carrying "qualitative" weapons.

Meanwhile, Time Magazine quoted an Israeli official last Tuesday as saying that Israel was responsible for the attack, and that the convoy had apparently included missiles with larger and more dangerous warheads than ones already in Hezbollah's possession.

Reuters contributed to this report