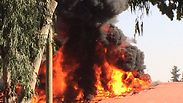 Kirya fire
Photo: Daniel Butbika
A fire erupted in the cafeteria of the Kirya compound, which houses the IDF high-command, in the center of Tel Aviv Wednesday.
Readers sent Ynet images of the shack housing the base's mess hall burning, with heavy smoke billowing into the sky. No injuries have been reported.
Six firefighter crews were dispatched to the location and, with the help of soldiers, managed to take control of the fire.
Limor Remler, who works near the compound, told Ynet: "I stood on the bridge to the Kirya and saw there's a fire and smoke. Lots of firefighters arrived on the scene. I realized the Kirya's cafeteria was burning."
Readers' photos of fire:
Yoav Zitun contributed to this report