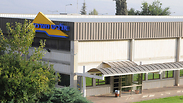 Elbit factory in Israel
Photo: Avihu Shapira
Israeli defense company Elbit Systems announced this week that it has won a $145 million tender from the US Department of Homeland Security Customs and Border Protection (CBP) to install security systems on the US-Mexico border.

The Fixed Tower project will include a number of observation towers to be built along the US-Mexico border fence in Nogales, AZ. The towers will include detection sensors as well as control centers. The base period quantity will be implemented over a time period of 12 months.

The program may reach $1 billion if new US immigration laws pass Congress and help fund the project's expansion in the Southwest, Bloomberg reported.

Elbit Systems overcame some of the top US government contractors, including Lockheed Martin Corp., General Dynamics Corp. and Raytheon Co.

CBP decided to end an existing contract with Boeing Co. in 2011 after having various technical problems of the original border-surveillance system.

Elbit Systems is an Israeli international defense and electronics company engaged in military technology and surveillance. One of its largest projects was building the security infrastructure support of the wall separating the West Bank and Israel, providing technologically sophisticated detection systems for the barrier.

The same technology used for the West Bank separation wall will be installed on the US-Mexico border.

"Arizonans have been waiting more than a decade for the Department of Homeland Security to place the needed technology along our border to support the Border Patrol and fully secure our southern border," Senator John McCain (R-AZ) said.

"After many months of delay, the awarding of this contract to Elbit Systems of America is an important development…and a step in the right direction," McCain added.