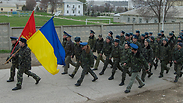 Ukraine soldiers marching on base
Photo: AP
Ukraine is reinforcing security measures at its nuclear power plants in response to Russian threats, Ukraine's ambassador told the UN atomic agency in a letter seen by AFP on Wednesday.

"Illegal actions of the Russian armed forces on the Ukrainian territory and the threat of force amount to a grave threat to security of Ukraine with its potential consequences for its nuclear power infrastructure," Ihor Prokopchuk said.

"Under these circumstances, the competent authorities of Ukraine make every effort to ensure physical security, including reinforced physical protection of 15 power units in operation at four sites of Ukrainian (nuclear power plants)," Prokopchuk said in the letter to International Atomic Energy Agency chief Yukiya Amano.

Prokopchuk added however that the "consequences of the use of military force by the Russian Federation" against the former Soviet state "will be unpredictable."

"Numerous efforts of the Government of Ukraine to establish bilateral contacts with the Russian counterparts have not been responded to so far," he said.

He urged Amano to "urgently raise the issue of nuclear security with the authorities of the Russian Federation."
Diplomatic hopes
Meanwhile, top diplomats from the major players are gathering in Paris to try to find an end to the crisis in Ukraine as tensions simmered over the Russian military takeover of the strategic Crimean Peninsula.

The envoys from Russia, Ukraine, the US, Britain and France are not necessarily all at the same table, but French Foreign Minister Laurent Fabius said everyone has been working non-stop for a diplomatic solution over tensions in Ukraine.

"We have a principle of firmness but at the same time of searching for dialogue," Fabius said as he stood alongside his Ukrainian counterpart, making his first trip abroad in the new post.

Russia took over Crimea on Saturday, placing troops around its ferry, military bases and border posts.

"Today the Ukrainian future will be decided," Andriy Deshchytsia, Ukraine's foreign minister, said of the meetings in Paris. "We want to keep neighborly relations with the Russian people. We want to settle this peacefully."

Wednesday's gathering, originally scheduled to deal with the Syrian refugee crisis, came after Russian President Vladimir Putin appeared to step back from the brink of war, but the crisis is far from resolved.

AFP and AP contributed to this report