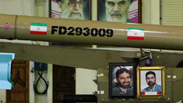 Fateh 110 rocket
Photo: AP
On the very same day the Israeli Navy seized an advanced weapons shipment from Iran bound for the Gaza Strip, Iran's Revolutionary Guard announced Wednesday that it has acquired missiles with multiple warheads and a range of 2000 km – enough to reach almost anywhere in the Middle East. The claim by Defense Minister Hossein Dehghan is the latest reported advance in Iran's domestic missile production program.
In a special ceremony held in an unknown location, the Iranian Defense Minister presented four types of ballistic missiles – 'Qiam', 'Qader H1', 'Fateh 110' and 'Persian Gulf' stressing that 'Qiam' and 'Qader H1', are equipped with multiple warheads and have great destruction ability. "These missiles can destroy enemy targets with precision and answer the different needs of the armed forces."
He says Western sanctions have not stopped Iran from augmenting its ability to deter its enemies from attacking the Islamic Republic, a reference to Israel and the US
His comments were posted on the Guard website, sepahnews.com, Wednesday.
Iran regularly announces breakthroughs in military technology that are impossible to independently verify. But the Pentagon released a rare public report in 2012 noting significant advances in Iranian missile technology, acknowledging that the Islamic Republic has improved the accuracy and firing capabilities.