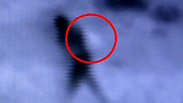 Hezbollah terrorists attempting to plant explosives on border fence.
Photo: IDF Spokesman
The IDF has raised the level of alert for troops stationed in the Golan Heights Wednesday night to the highest level fearing retaliation after troops shot at Hezbollah terrorists attempting to plant explosives on Israel's border with Syria. The soldiers used gunfire and shell tanks and hit two of the terrorists, the IDF said.

Earlier, the IDF spokesman post a video showing three suspected terrorists attempting to plant the explosives on the border fence.

Terrorists attempt to plant explosives on border fence (צילום: דו"צ)

Syria's state news agency SANA, citing a military source, said that Israeli forces fired four tank shells toward the Golan village of Hamidiyeh, hitting a school and a mosque early Wednesday. It said Israeli forces also fired another four shells toward another area called Houriyeh, and then opened fire a third time, again toward Hamidiyeh.

It said the attacks wounded seven members of the security forces and four civilians. It provided no further information.

Related stories:

In a cryptic comment, Syrian Foreign Minister Walid al-Moallem said the Israeli "aggression" against Hamidiyeh in the Golan came because it "felt" the Syrian military had carried out a pre-emptive operation to secure its border with Israel.

The Britain-based Syrian Observatory for Human Rights also reported that Israeli forces fired several tank shells and two missiles toward the Golan Heights. The group said one missile hit a school in the village of Hamidiyeh, where Syrian troops were concentrated. The Observatory obtains its news from a network of activists in Syria.

During Syria's civil war, mortar rounds and artillery shells - apparently overshooting their targets inside Syria - have landed in the Israeli Golan Heights, prompting an Israeli response on several occasions.

Israeli military spokesman Lt. Col. Peter Lerner described Wednesday's shooting a response to a "substantially different threat" than what Israel has seen before: an attempt to plant a bomb directly on the border. That warranted a "more forceful response," Lerner said, adding that the military fired multiple artillery rounds, and that they two suspected militants were the only targets.

Israel captured the Golan Heights, a mountainous plateau, from Syria in the 1967 Six Days War. A UN peacekeeping force established in 1974 monitors the disengagement of Israeli and Syrian forces in the Golan Heights after the 1973 Yom Kippur War.

Syria's state news agency described Wednesday's shooting as "aggressive acts," and warned Israel of such "adventures and in testing our fighting capabilities."

Also Wednesday, Lebanon's state-run news agency reported that Israeli warplanes flying at low altitude carried out mock raids over the southern towns of Nabatiyeh and Iqlim al-Tuffah. It says the warplanes were accompanied by an unmanned Israeli reconnaissance aircraft.

The agency also reported that Israeli military helicopters were flying over the town of Shebaa close to the Golan Heights.