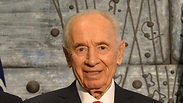 President Shimon Peres
Photo: Mark Neiman, GPO
In a live interview with Arab news website Panet on Thursday, President Shimon Peres addressed the Arab-Israeli community, as well as the entire Middle East, and expressed hope of better cooperation, saying "more and more Arab countries see terrorism as an enemy, and rightfully so."

Peres also reponded in regards to the Iranian arms shipment that was seized by the Israeli Navy on Wednesday, as well as the Gaza blockade and peace negotiations with the Palestinians

"Why are the Iranians doing this? If you were a Gazan, what would you invest in? What will they get from this? Terror has brought nothing, except for destruction and division," said the president about Iran's foiled arms transfer to terrorists, noting that the Gazan investment in missiles is a waste, since "they'll shoot and we'll shoot right back."

Referring to the general closure of Gaza, Peres said: "If Gaza ceases fire, there will be no need for a blockade. A closure is not meant to cause trouble for the citizens of Gaza. Why does Gaza need to invest millions of dollars in missiles? Do you know what really happens in Gaza? There's not only Hamas, there are four or five terrorist organizations. We have an interest that Gaza becomes open and progressive. What pleasure is there to see them suffer, for what?"

Regarding the negotiations with the Palestinians, the president said: "I have known Abu Mazen (President Mahmoud Abbas) for many years. I think he is a serious man, he is a real partner and we can negotiate with him and reach peace, undeniably. It's true that there are some Israelis who think differently, but the fact is that Israel is negotiating with him."

The Arab website Panet, which is very popular among Arab-Israeli readers, is also read in other countries in the Middle East.

At the interview's conclusion, Peres responded to questions posed by the website's visitors, from countries such as Egypt, Jordan, Libya and Syria. In recent days, the website's visitors were asked to ask the president questions, and the answers were translated into Arabic for the benefit of the target audience.